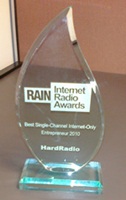 This week we are revealing finalists in the Sixth Annual RAIN Internet Radio Awards. Today we are pleased to announce the advancing finalists in the "Best Single Stream Webcaster" category.
The single winners of all six categories will be revealed and honored at RAIN Summit Atlanta on September 29, as the gala closing session of the day-long conference.
This category celebrates the best pureplay webcaster with a single stream of radio content. It is one of the most popular categories each year, and therefore one of the most competitive, receiving many submissions. The judging panel, comprised of industry experts unaffiliated with the competing services, may evaluate all aspects of the singe-stream pureplay experience, including programming, personality, stream reliability, and distinctiveness.
The RAIN Awards use a self-nominating system; all contenders submit their own services and stations.
Congratulations to this year's finalists (in random order):
Radio St. Pete: Self-described as an "old school local radio station," now in its third year. Programming includes music, and local content such as podcasts, events calendars, and interviews.
Blue Plate Radio: A jazz station emanating from New England, Blue Plate carries a local slant with concert information and a music playlist skewed to local artists.
oWOW: This is an adult alternative station that serves the greater Cleveland area — and everywhere else. Operated like a traditional stations, the staff includes well-known DJs who have made the jump to online radio.
Thanks to all of our nominees. The RAIN Internet Radio Awards recognize the achievements and the best practices of the Internet radio industry.
RAIN Summit Atlanta is the premiere educational and networking conference for the Internet radio and online audio industry and a partner event of The Radio Show. Jake Shapiro, CEO of PRX, will keynote the event. Joins us for the industry's best knowledge sessions, the networking, the AWARDS, and the best cocktail party in the industry.