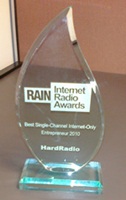 This week we are revealing finalists in the Sixth Annual RAIN Internet Radio Awards. Today we are pleased to announce the advancing finalists in the "Best Podcast Series" category.
The single winners of all six categories will be revealed and honored at RAIN Summit Atlanta on September 29, as the gala closing session of the day-long conference.
This category celebrates the best spoken word on-demand audio series. We required the content to originate online — not a simulcast of a radio show. Judges could consider originality, production quality, entertainment value, longevity and presentation.
The RAIN Awards use a self-nominating system; all contenders submitted their own programs.
Congratulations to this year's finalists (in random order):
Musonomics: Produced at NYU, Musonomics examines the business side of music and culture industries. It launched in April and is produced twice a month.
Planet Money: In production since 2008, NPR-produced Planet Money explains the economy and the mechanics of high finance. The Internet-original program comes out twice a week, and portions of it are sometimes excerpted on radio.
The Secret History of Hollywood: A true original that received high marks from our judges, this home-grown production contains Hollywood history (naturally), clips, and music.
Thanks to all of our nominees. The RAIN Internet Radio Awards recognize the achievements and the best practices of the Internet radio industry.
RAIN Summit Atlanta is the premiere educational and networking conference for the Internet radio and online audio industry and a partner event of The Radio Show. Jake Shapiro, CEO of PRX, will keynote the event. Discussion panels will dive deply into podcasting, simulcasting, mobile, and programmatic. Joins us for the industry's leading knowledge sessions, the networking, the AWARDS, and the best cocktail party in the industry.