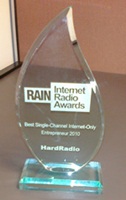 This week we are revealing finalists in the Sixth Annual RAIN Internet Radio Awards. Today we are pleased to announce the advancing finalists in the "Best Overall Online Radio Service" category.
The single winners of all six categories will be revealed and honored at RAIN Summit Atlanta on September 29, as the gala closing session of the day-long conference.
This category celebrates the station or webcaster that provides the best overall online listener experience. Our judges considered programming, technology, popularity of the service, attractiveness of the site and/or player, ease of use, operational sustainability, integration of advertising assets (if applicable), and other criteria.
The RAIN Awards use a self-nominating system; all contenders submitted their own programs.
Congratulations to this year's finalists (in random order):
Spotify: Spotify is a market leader, used by at least 75-million people across 58 countries. The platform offers fully interactive subscriptions, but is mostly used as a free online radio service.
Pandora: Founded as a music intelligence company, Pandora serves nearly 80-million listeners each month, and leads all other streamers in Triton Digital's monthly rankings of average active sessions in the U.S.
Slacker Radio: Slacker describes its mission this way: "To entertain, educate and inspire while creating deep, personal bonds with listeners."
Thanks to all of our nominees. The RAIN Internet Radio Awards recognize the achievements and the best practices of the Internet radio industry.
RAIN Summit Atlanta is the premiere educational and networking conference for the Internet radio and online audio industry and a partner event of The Radio Show. Discussion panels will dive deeply into podcasting, simulcasting, mobile, and programmatic. Joins us for the industry's leading knowledge sessions, the networking, the AWARDS, and the best cocktail party in the industry.