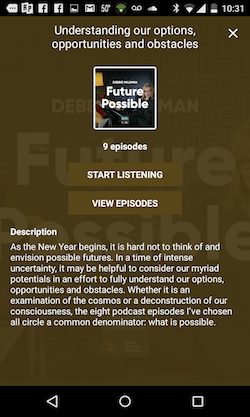 RadioPublic, a mobile podcast listening app, is launching a discovery feature called Podcast Playlists. Each playlist is themed by topic or activity, and they are programmed by podcast experts, producers, and listeners with episodes from across different shows. The curators include Phoebe Robinson, co-host of 2 Dope Queens; Jody Avirgan of FiveThirtyEight; Hrishikesh Kirway, a Radiotopia host; and Matt Lieber, co-founder and president of Gimlet Media.
"Personal recommendations are still the most effective way to learn about great podcasts," said Jake Shapiro, co-founder and CEO of RadioPublic. "With the creation of Podcast Playlists we are vastly expanding the surface area for discovery, giving everyone from the best publishers to your best friends the ability to share their favorite episodes."
In addition to these curated lists, the mobile app is testing a feature called My Podcast Playlist. This allows users of the service to make their own collections of favorite episodes. My Podcast Playlist is currently in private beta.