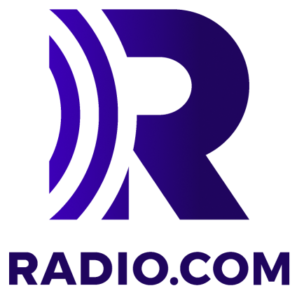 Entercom-owned RADIO.COM released a raft of encouraging listening numbers following a mobile app update. RADIO.COM is the exclusive home of Entercom's streaming content from its 230 radio stations and wholly owned podcasts. It also acts as a  general podcatcher serving up shows from other networks.
The mobile app has been updated to provide what Entercom calls "drives content discovery through new personalized recommendation features to the platform. The update elevates the audio consumption experience by offering users a personalized homepage tailored with additional stations and podcasts based on listening habits." The company notes that with this update, advertisers can target listeners more exactly. (The lastest Android app available to our testing phone did not allow us to sign in via Facebook, and also thwarted our attempt to create a new testing account. We could not review the updated features.)
RADIO.COM had a good March according to today's press release, with 22% increased listening month-over-month. That's a clean win given the wild disruption of routines that occurred during march. Total listening hours went up in April, too — "the only publisher to do so" according to the announcement. (Entercom cites Triton Digital's Webcast Metrics as the source for all stats in today's PR.)
Here are four metrics bullet points provided by Entercom:
Entercom's portfolio of news and news talk stations are up 61% year-over-year in TLH, as audiences crave trusted information in these uncertain times
Despite altered schedules, audiences have carried their favorite stations with them and tuned in with greater intent as RADIO.COM smart speaker listening has increased 12% from pre-COVID times (weeks of 4/5 – 5/2 vs 2/2 – 2/292). Mobile listening is also up 2% as compared to before the crisis.3
RADIO.COM music listening from Entercom's AM/FM stations is up 8% with smart speakers audio consumption up 96% year-over-year, as audiences streaming digitally seek comfort during these difficult times
This is particularly true for 93XRT (WXRT-FM) in Chicago, as the station's listening is up 16% from pre-COVID4
Sports listening saw an uptick during this time, even though no actual games are being played.