Songza partners with Foursquare: As part of its real-life focus, Internet streamer Songza has partnered with social site Foursquare. Songza users who "check in" at certain locations receive rewards — badges, access to special playlists, and temporary no-charge access to Songza's premium subscription level. The match-up seems a bit artificial, but could increase Songza's brand recognition and attract new users.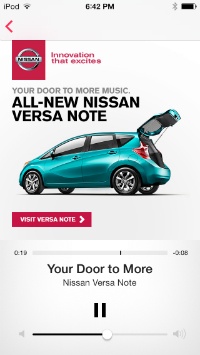 Pandora tops app revenue list: For the fifth consecutive month, the Pandora mobile app was the highest revenue generator (excluding gaming apps) in Apple's app store during August, according to the App Annie Index. The Pandora app itself is a free download, but subscribing to the streamer's ad-free service is what brings the revenue. Tracking app downloads, Pandora does not appear in the index top-10.
iTunes smart ads: In continued listening tests of iTunes Radio, the latest and most highly-publicized Internet radio launch, we have noticed smooth integration of contextual audio/banner ads in the artist-based streams. Apple is concentrating some effort at driving downloads with ads for iTunes Music Store albums, contextualized to the current stream. In a classical station based on the Berlin Philharmonic, Apple advertised a recording by the world's hottest conductor, Gustavo Dudamel. In a blues-oriented station, an ad for the Nissan Versa Note played, highlighting the music-listening features of its dashboard system. ("Your door to more music.") iTunes Radio might not compare well to the intelligence of Pandora's Music Genome Project, but early indications show the advertising to be much smarter.