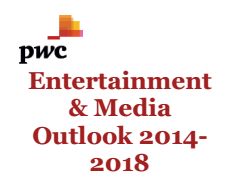 Yesterday we posted main points from Price Waterhouse Cooper's Entertainment & Media Outlook study — an analysis and economic projection of several media industry categories that was introduced in a live webcast. (See the archived webcast here.)
PWC provided RAIN with deeper dives into the Music Industry and Radio portions of the report.
Music Industry
PWC's financial forecasts hinge on compound annual growth rate (CAGR) calculations for a prediction period between 2013 and 2018.
PWC's music industry projections hew to the broad sweep of most forecasts: streaming takes the growth lead, physical products continue dropping, and music downloads are threatened. But the exact forecast on that last point might be unique. Though music-download sales dropped in 2013, that skid is forecast to stabilize and remain essentially flat through 2018 in PWC's modeling.
We had not encountered that much optimism around the future of music download revenues, and reached out to PWC for more detail and rationale around the projection. Greg Boyer, Partner, PwC Entertainment, Media & Communications, gave us these points of context:
Downloads will stabilize vs grow through 2018 (we are actually projecting more like flat growth).
Streaming will continue to grow but take less away from purchases moving forward (most evangelists have already migrated their behavior).
Population growth, demographics and technology breakthroughs will bring more customers to the table for download purchases.
Live music will continue to be the key driver for the industry and supports "ownership" models.. a positive for downloads.
Recent 2013/2014 release schedules were weak vs. historical comparisons. We anticipate better release schedules and more download momentum for album sales.
Lastly, increasing confidence in global economic conditions and middle class discretionary income support download sales.
With all that, PWC projects 0.1% annual growth for music downloads– in other words, a halted skid and recovery to flat growth.
On the streaming side of the business it's off to the races at a 14.5% annual growth rate, bring those revenues from $848-million in 2013 to %1.7-billion in 2016.
The study counts 118-billion streams served in 2013, and PWC's analysis says that streaming is "wholly responsible for taking the steam out of digital music and single sales."
Radio
In the radio industry, the projected CAGR is weighted heavily to the digital side of the fence, with growth of advertising revenue concentrated in radio station webcasts. PWC forecasts 9.7% annual growth there, with a relatively flat 0.5% annual growth predicted for terrestrial broadcast advertising. The two sides combine for annual growth expectation of 2.1%, lifting total U.S. revenue to $22.1-billion in 2018.
In the satellite realm, satellite radio subscriptions accounted for 17% or U.S. radio revenue in 2013, and that earnings stream is projected to grow at a 6.1% annual clip to $4.4-billion in 2018.
PWC notes that the U.S. radio market is the world's largest in revenue terms, with its $20-billion 2013 earnings representing 45% of the global revenue.