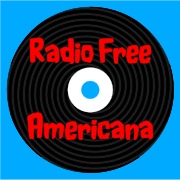 "Twang meets pop." That tagline is a first indication of this online station's musical range. (www.radiofreeamericana.com) Here's another:
"Free-form, commercial free radio featuring new releases of Americana/Alt. Country, Indie/College Rock, Power Pop, Blues, Folk, Outsider, and more (or less)." In other words, leave your genre-specific expectations at the door.
Or, putting it another way: "Non-discriminating free-form radio for the discriminating listener."
Our recent listening had plenty of upbeat tunes, twang, and memorabilia from Otis Gibbs, John Fullbright, Keb Mo, Jack Clement, The Rockingbirds, Frank Sinatra, and others. The station website publishes weekly top-spin charts. Recent most-played artists include Nils Lofgren, Johnny Winter, Lucero, Dr. John, The Gaslight Anthem, and Backsliders.
That chart can be sorted to break out most-spun song tracks of the top artists — doing so reveals very little song repetition. this station has a big library.
Speaking of that, click the Library link to see albums that have been added in 2014 — and back to 2000, year by year. Using this terrific feature is like browsing the stacks. You can't listen on-demand, of course, but you can link to artist websites or Facebook pages.
Radio Free Americana is a good end-of-summer party station. Put in on all afternoon — the stream performance is reliable, the musical mood is consistent, and you probably won't hear a song twice.