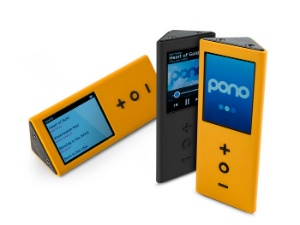 The long-awaited Pono Music ecosystem, Neil Young's project, emerged from beta this week. Pono Music players will be available at Fry's consumer electronics stores, and online. During the beta period about 20,00 Kickstarter investors received units, and that group purchased about 200,000 hi-rez music tracks from Pono's download store.
This week's CES-timed launch closes the first, non-public chapter of Pono's storied existance. In April, Pono raised over $6-million on Kickstarter. Neil Young promised an end-of-year launch (a goal he essentially met) in July, when he took over as CEO. More crowd-sourced money was raised in August.
At CES, Pono products and embedded installations are exhibited in the Pono booth, and as part of other exhibits by high-end audio stakeholders such as Harman, Sennheiser, and Ayre Acoustics.