In the Q3 edition of Share of Ear, an Edison Research subscription product, podcasts gained a point to reach an all-time high of 11%. That's the percentage of all daily time spent with audio among people age 13 and over in the U.S.
Share of Ear measures time spent across all audio types, by American 13+ consumers.
AM/FM radio listening also gained a point. But Edison observes that radio listening was down by a point in the Q2 report, so its time-spent trend is flat from Q1.
Streaming music gained a point, and owned music dropped two points Q2-Q3, putting that type of listening at 5%.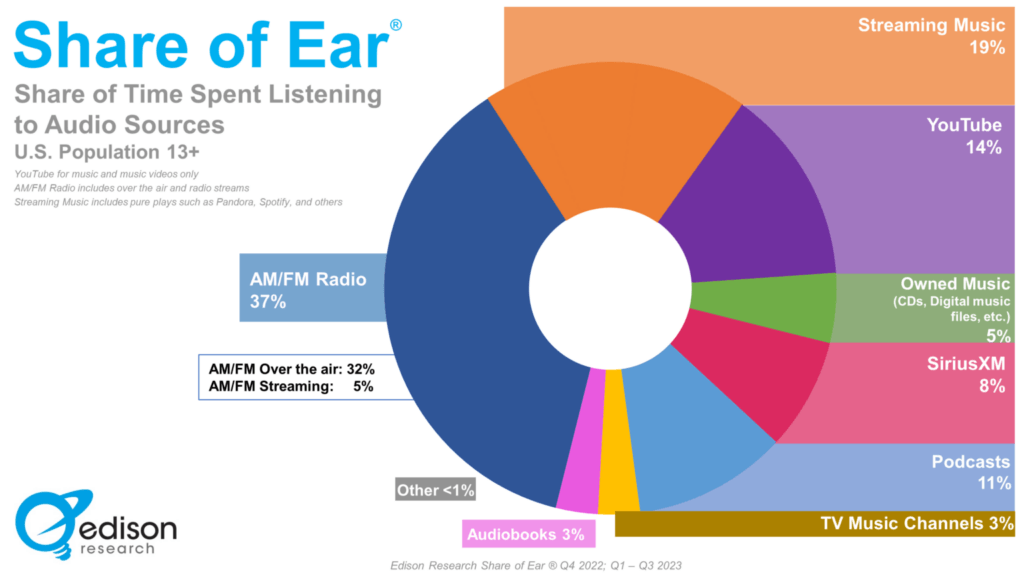 Edison's tracking of month-over-month changes yields these outcomes:
Podcasts gained one point to another new all-time high of 11% of all daily time spent with audio by those age 13+ in the U.S.
AM/FM Radio (which combines over-the-air with listening to radio stations via their streams) is up one point. AM/FM Radio was down one point in Q2, so essentially AM/FM Radio is flat compared with Q1 2023
Streaming Music is up one point
Owned music (listening to CDs, vinyl, owned digital files, etc.) dropped two points
---