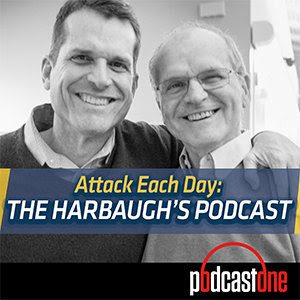 PodcastOne sent a notice describing the upcoming launch of PodcastOne Sports, spearheaded by a new show called Attack Each Day: The Harbaugh's Podcast, hosted by U. of Michigan football coach Jim Harbaugh.
To some extent, PodcastOne appears to be a reorg, and will bundle existing shows that fit into the category: The BIG Podcast with Shaq, The Dan Patrick Show, Steve Austin Unleashed, The Rich Eisen Show, and Ross Tucker's football programs.
More ambitiously PodcastOne plans a slate of new programs. while titles and descriptions are not yet disclosed, the company has signed Dick Enberg, Suzy Schuster, Dave Dameshek, Lilian Garcia, Jay Mohr, and "top sports writers from around the nation."
"This new network demonstrates PodcastOne's interest in dramatically expanding our already successful portfolio of sports-related programming to build a singular hub for sports fans and brands," said Norman Pattiz, Executive Chairman of PodcastOne. "I can think of no better way to launch our new network than with Coach Jim Harbaugh."
Tim Harbaugh's new podcast drops its first episode September 5.