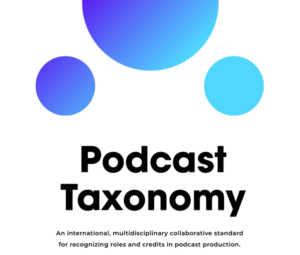 A venture called the Podcast Taxonomy Consortium, which consolidated and formulated its key product through the second half of 2020, has  come into public this week. The output is a whitepaper called Podcast Taxonomy which establishes and defines creative roles in podcasting. The venture, led by Podchaser and Staff Me Up, self-describes as "An international, multidisciplinary collaborative standard for recognizing roles and credits in podcast production."
The effort certainly is broadly collaborative, with a working group that spans across 39 organizations and 53 individuals. You can see them, and the whitepaper which seeks to set a standard lineup of podcast creative roles, HERE. "This is a living, breathing document," the preface states, "intended to be routinely updated via a convention of partners throughout podcasting known as the Podcast Taxonomy Consortium."
There is a three-part mission statement:
Further professionalize the podcast industry by adopting a standard set of roles in podcast creation.
Help with job search and creation in podcasting, giving networks and independent creators a common list of known roles and job descriptions.
Ensure the taxonomy of podcast roles is inclusive, representing people of all backgrounds, including women, people of color, and marginalized voices.
The top level role designations are below — each one has multiple finely defined roles within it.
Creative Direction
Cast
Writing
Audio Production
Audio Post-Production
Administration
Visuals
Community
Miscellaneous
Video Production
Video Post-Production
Unknown to us is whether the group intends to try for standards that go beyond definitions, for example pay ranges, or remote work feasibility. For now this work is mainly to establish standards for crediting work.
You can track the project at its website HERE.