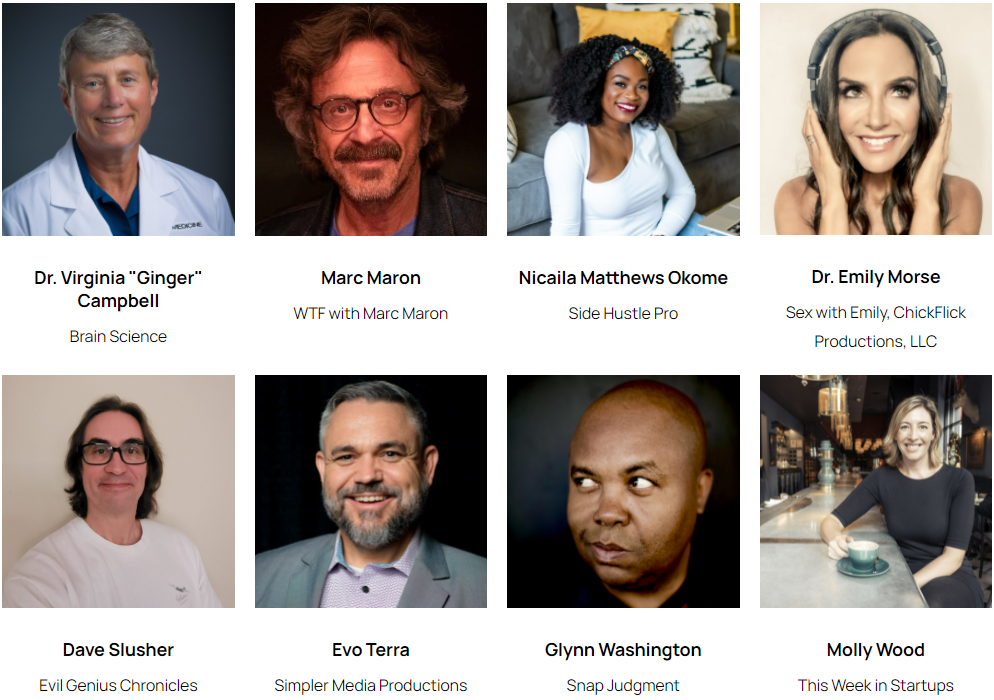 After a four-year hiatus, Podcast Movement is partnering with podcast host Libsyn to introduce the 2022 Podcast Hall of Fame with eight inductees. They are:
Dr. Virginia "Ginger" Campbell, Host & Producer of Brain Science
Marc Maron, Host & Producer of WTF with Marc Maron
Nicaila Matthews, Host & Producer of Side Hustle Pro
Dr. Emily Morse, Host of Sex with Emily & CEO of ChickFlick Productions, LLC
Dave Slusher, Host & Producer of Evil Genius Chronicles
Evo Terra, Host of Podcast Pontifications, CEO of Simpler Media Productions, and Founder of Podiobooks
Glynn Washington, Co-host & Producer of Snap Judgment
Molly Wood, Co-host of This Week in Startups (former Senior Editor of Marketplace Tech, and Host &
Executive Producer of CNET's Always On)
The inductees were voted on by the Hall of Fame Induction Committee, which is composed of current Hall of Fame members; Induction Committee Chairperson Rob Greenlee, who is also Vice President of Content and Partnerships at Libsyn; and Induction Committee Vice Chair Mignon Fogarty, who is the creator and host of the Grammar Girl podcast. Induction of this class brings the Hall's total number of podcasting luminaries to 33.
The Hall launched in 2015. Past inductees, and the 2022 honorees, can be seen HERE.
"What makes the Hall of Fame award stand out is that it recognizes contributions to the podcasting industry as awhole as well as recognizing excellence in podcasting itself. We're thrilled to honor these impressive podcastersand valued community members as the 2022 class of inductees," said Mignon Fogarty, 2016 Podcast Hall ofFame Inductee, Induction Committee Vice Chair, and Grammar Girl creator.
.