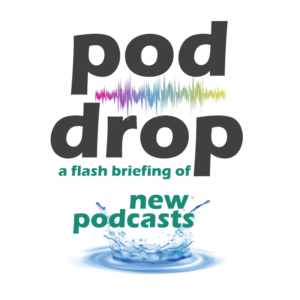 Pod Drop features new and returning podcasts. Today — new immersive SciFi, a heralded return of a beloved show, and (mostly) SFW sex adventures.
---
First Action Bureau
(Anderson Entertainment)
Spy-fi audio drama starring Genevieve Gaunt, Sacha Dhawan, Paterson Joseph and Nicola Walker. The premise: A "First Action Bureau" exists to protect the Earth – near-utopian by 2068 – from criminal elements before they get the chance to act. Using decades of 'big data' and globally connected quantum artificial intelligence, the Bureau is able to predict criminal activity before it occurs. Cool premise, immersive production, great acting.
[APPLE]
trailers:
The Cut
(Vox Media & New York Magazine)
This is a reborn podcast, the original version of which was started by New York Magazine as The Cut on Tuesdays — it was very popular and critically praised, hosted by Molly Fisher and produced by Gimlet Media. That show ended, and New York Magazine merged with Vox Media — so, voila! "The Cut" , now hosted by Avery Trufelman who was part of the massively successful 99% Invisible podcast.
[APPLE]
trailer:
Consenting Adults
(Benztown & McVay Media Podcast Networks)
Life starts at 40" is a premise of this fun podcast which investigates middle-aged kinkiness … or, to be more exact, ethical non-monogamy. The show is expertly hosted by Leyna Nguyen [Leena Wynn] who talks with couples who have experimented with sex clubs, open infidelity, swinging, and poly-amorous situations. Wynn, an Emmy-Award winning journalist, has a real talent for drawing people out, making them feel comfortable with her curiosity, and keeping things humorous. This is not a pornographic podcast (if there even is such a thing) — the language is mostly clean. (But not a safe show for kids to overhear.)
[APPLE]