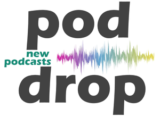 New podcasts of note:

The Path HERE / (Scott Savlov) / Music Interviews / Weekly / Website / Apple
The Path HERE is a show about the decisions and choices celebrities have made along their path to success. Launched on Sounder and oddly self-selected into the "Music Interviews" category in Apple, the show will feature guests from a range of endeavors including chef Scott Conant, musician Mat Kearney, former NBA player and coach, Bill Cartwright, Olympian Natalie Coughlin, and others. Four eps dropped; lengths range from 45 to 72 minutes.

Takeline / (Crooked Media) / Basketball / Weekly / Website / Apple
A weekly podcast hosted by Jason Concepcion and Renee Montgomery. A fast-paced exploration of the NBA and world of sports and culture. Games, players, controversies and issues that run both on and off the court.

Minnie Questions with Minnie Driver / (iHeartRadio) / Arts / 2-episode drop / Website / Apple
"Enraptured observations" in a celeb-interview format hosted by actor/songwriter Minnie Driver. She templates the show by asking the same seven questions to each guest. Driver says the idea is to elicit answers that go way beyond the questions. Viola Davis and Chuck Bryant are the first two guests. Episode lengths in the 40-minute range. Pre-roll sponsor is Rate.com.
.