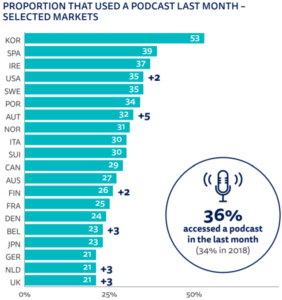 The Reuters Institute has published its foundational Digital News Report 2019. This large-scale consumer study surveyed 75,000 digital news consumers in 38 countries. The report is a free PDF download HERE.
The final report mentions podcasting 186 times. A key point is a so-called Pivot to Audio, which describes how phones and smart speakers are fostering the growth in podcast news shows. Over one-third (38%) of respondents said they consumed a podcast in the last month, and 15% said they listened to a show about news, politics, or international news.
The study notes the success of The Daily, published by The  New York Times, which is the #1 program in Podtrac's TOP 20 PODCASTS monthly report for October. the study notes follow-on products launched by The Guardian, The Washington Post, Politken, AftenPosten, The Economist, and Financial Times.
The study includes qualitative research in addition to the metrics. One user quote: "The core appeal of podcasts is the ease of use, and the ability to listen while doing something else. But for younger users podcasts also provide more authentic voices and the control and choice they've become used to." And another: "with radio you can't control what shows are on, whereas [with] podcasts you can."