This article was originally published in Audio4cast.
---
Digital measurement firm comScore released new data on mobile and smartphone usage last week, showing that more than 163.2 million Americans own a smartphone. That number represents 68.2% of the mobile market and is up 7% over 3 months before. Apple ranked as the top smartphone manufacturer with 41.3 percent share, while Google Android led as the #1 smartphone platform with 52.1 percent platform market share.
As the smartphone audience expands, streaming music apps continue to benefit. While the most widely used app is Facebook, two streaming apps — YouTube and Pandora — are in the top five, with 48 and 45% reach into the mobile app audience.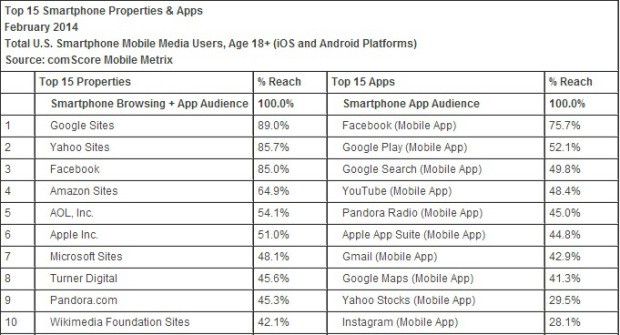 Pandora's mobile strategy is the key to the streaming platform's amazing success. It was the 9th most downloaded app in the iTunes app store last year — a stat that is particularly impressive given that it's been around a long time, and many people already have it. By way of reference, Facebook is number 8, and Spotify is nowhere to be seen.
Earlier this week at RAIN Summit West, keynote speaker Jason Calacanis talked emphatically about the importance of mobile, saying that it is the only thing that is important. Those that develop winning mobile platforms win consumers. With more than 70% of their listeners on mobile, Pandora understood that concept early and capitalized on it.