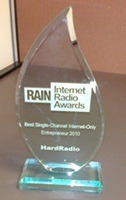 (from yesterday's late edition, edited)
Nothing like ending the day on an "up" note. For the fourth straight year, leading webcaster Pandora has been named the 2013 RAIN Internet Radio Best Overall Online Radio Service.
The Awards were presented at the conclusion of yesterday's RAIN Summit Orlando.
Pandora's prize follows a series of somewhat less pleasant developments for the webcaster. For starters, today is the launch of what will very likely prove to be Pandora's greatest competitive threat yet: Apple's iTunes Radio. Monday, Pandora publicly warned share holders that the rapid listening and revenue growth it's enjoyed these past few years will likely be slowing. And Tuesday, RAIN Summit keynote speaker Entercom CEO David Field questioned the veracity of Pandora's reported listening numbers. Perhaps the kudos came at a good time.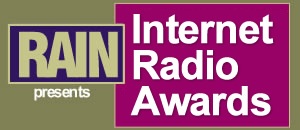 Pandora has dominated the award the way it dominates the online streaming space, taking it all four years since RAIN began the awards in 2010 (last year it shared the "overall" award with ESPN Radio).
Congratulations to tuning/aggregator service TuneIn for capturing the Best Overall Digital Strategy prize. The award for International Excellence in Online Audio went to online radio hosting service Radionomy. Boston's WEEI-FM won the award for Best Streaming Broadcast Station. And the 2013 RAIN Internet Radio Award for Best Single Stream Webcaster went to Christian rocker The Blast.
More than 100 services entered the Awards this year. Winners were determined by an independent panel of industry expert judges.
Triton Digital, which sponsors the awards, gave its 2013 RAINMaker Award for individual achievement to Ali Abhary, CEO of Spectrum Medya in Turkey.
Look for more coverage of RAIN Summit Orlando soon.