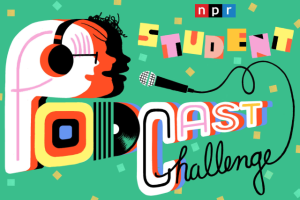 NPR has announced the second Student Podcast Challenge, an opportunity for kids and teachers in grades 5-12 to create and submit new shows.
Last year the Challenge received almost 6,000 podcasts from all 50 states (and D.C.), showcasing the efforts of 25,000 students. Teachers reportedly loved it. Two winners resulted, one from a Bronx NYC school, and one from high-schoolers in rural Tennessee.
This year the winners will be promoted on NPR's Morning Edition or All Things Considered network news programs.
The submission period starts in January, and are divided by age: 5-8 and 9-12 grades. Final rules have yet to be posted. We know there will be a no-music policy. NPR plans to ramp up its support materials for teachers and students — training materials and production advice.