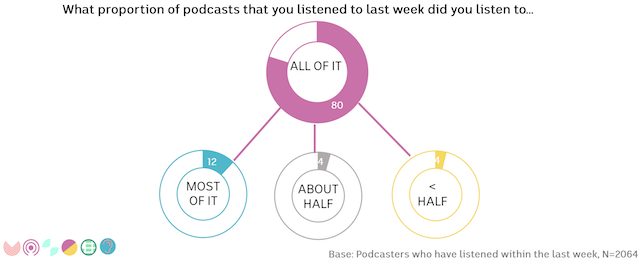 The Australian Broadcasting Corporation (ABC), the national public radio group of Australia, published data from a survey about podcast awareness and consumption. The release is times on the eve of OzPod, Australia's leading podcast industry event which is produced by ABC.
Australians posted 89% awareness of the audio format. More than half have listened to a podcast, and the rate rose to 76% among those aged 25-34. 16% said they had tuned in to a podcast in the last week, although the rate was again higher among the 18-24 year-old group at 27%. The podcast audience who listens to at least five hours weekly has grown from 37% in 2016 to 44% in 2017.
Most Australian listeners are tuning in for the entirety of each episode. On average, 80% of podcasts listened to in a week are heard all the way through. For weekly listeners who commit past the first five minutes, the average time spent listening to an episode is 48 minutes.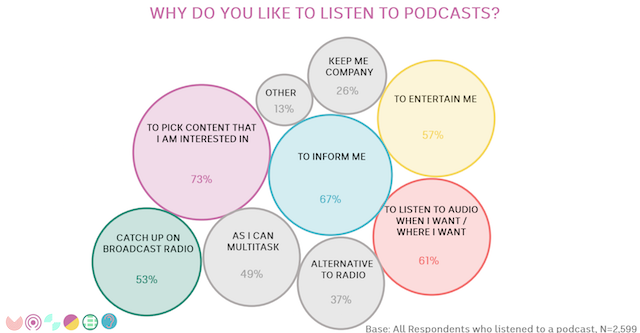 Many of the ABC trends echoed the results of the Infinite Dial study focused on Australia. One deviation from the usual data is a larger number of women in the podcast audience at 58%.
This deeply explorative study resulted in a wide range of audience intelligence. The following is ABC's list of research highlights:
There is a new 56% increase in claimed podcast listening compared to listening last year. 14-34s (67%) and Females (64%) in particular claim to be listening more to podcasts this year.
Listening frequency is high among podcast listeners, with 57% claiming to have listened in the past 24 hours, rising to 71% among 14-34s. We have seen a YOY growth in respondents listening within the last week, up from 60% in 2016 survey to 79% this year.
Podcast listeners, who listen in the last week, are highly engaged, listening to an average of 6 podcast episodes and 4 podcast series / wk.
An average of 80% of podcasts listened to last week were listened to the whole way through. This is consistent YOY.
There has been an increase in time spent listening to podcasts, with 44% of weekly podcast listeners claiming to listen at least 5 hours per week, up from 37% in 2016 survey.
Almost 1 in 3 podcast episodes that were listened to last week and listened to in their entirety were listened to across multiple sessions.
48 mins is the average time spent listening to a podcast episode, for weekly podcast listeners who commit beyond the first 5 minutes.
21 minutes is the average time spent listening required to rate whether a new podcast is worthy.
Late Afternoon / Evening remains the most common podcast listening times on a weekday and Afternoons on weekends. Half of 14-34s listen on weekday mornings.
Whilst 'At Home' remains the most common location for podcast listening, we have seen YOY growth in podcast listening in 'a car/truck/taxi'. Growth is most pronounced among 35-54s, up 11 percentage points YOY to 60% of 35-54s.
'More Awareness' has overtaken 'Better Content', to now become the largest driver of increased podcast listening, up 13 percentage points YOY.
Trialling new podcasts occurs regularly with 24% listening to a new podcast within the last week, rising to 31% among 14-34s.
Smartphone is increasingly the device most often used for listening to podcasts, at 62% of podcast listeners. YOY growth in Smartphone usage has largely occurred at the expense of listening via a computer, especially among 35-54s and people 55+.
---