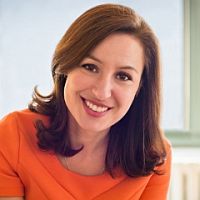 NPR has announced that well-known podcaster (and RAIN Summit speaker) Manoush Zomorodi will be the next host of TED Radio Hour starting next April. She will succeed Guy Raz, who announced his departure during the summer.
Manoush Zomorodi is already one of most successful and entrepreneurial podcasters of the last seven years, and will take over one of the most popular radio/podcast programs in the world.
"Hosting TED Radio Hour is one of the best jobs in radio/podcasting," she said. "Who wouldn't want to interview the smartest people on the planet about their life's work and then collaborate with one of the top teams in audio to turn it into an intimate, educational, and entertaining hour of listening that impacts millions of people around the world?"
Zomorodi switched a television career to audio when she started Note To Self, a production of WNYC Studios, in 2017. She helmed that show for over seven years, winning Best Tech Podcast by the Academy of Podcasters in 2017. She then spun off her own company, Stable Genius Productions. In partnership with co-host Jen Poyant, and in  collaboration with Radiotopia, the Zig Zag podcast is in its 4th season. Zomorodi also took over IRL, a branded podcast for Firefox, produced by Pacific Content, which was previously been hosted by Veronica Belmont.
TED Radio Hour is a steady presence on Podtrac's TOP 20 PODCASTS monthly list; in September it placed #9 for U.S. unique monthly audience among Podcast measurement clients. The show is an editorial partnership between NPR and TED. Manoush Zomorodi will inherit a show which has interviewed about 750 TED speakers including Bill Gates, Sting, Monica Lewinsky, and Dan Gilbert in that long list.