Magellan AI released an end-of year State of Podcast Advertising report — a look back at various 2020 metrics, and notes looking ahead to 2021. Following are a few of the many data explorations covered in the free doc. (Get it HERE.)
On average, 160 new advertisers entered podcasting each week in 2020.
The number of shows in which single advertisers appear is growing, on average, from a little over four shows to a little over six.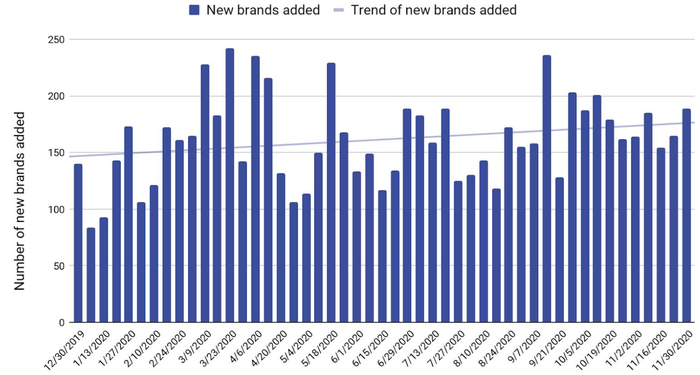 This trend is accelerating in the second half of the year. The podcast categories enjoying this diversification will seem familiar to anyone who listens to a lot of shows: VPN services, Recruiting (hiring), Shaving (a pretty thin category, but we've all heard the ads), and Mental Health.
Meanwhile, the ad industries that are increasing their spending from 2019 the most include Politics (naturally), Social Networking, Mobile Game, Appliances, and Gaming. (According to Magellan numbers, adding Mobile Gaming and Gaming would put that combined category in the #1 slot.)
Interestingly, Magellan thought to measure the extent to which the top U.S. advertising spenders have adopted podcasting. The top two — Amazon and Comcast — have bought into podcasts all year, fairly consistently. Others are in the field, but less committed.
Which podcast category has the highest fill rates through 2020? Comedy. (Keeping in mind that some of the most popular podcasts in the world, like The Joe Rogan Experience and WTF with Marc Maron, are long form interview programs that don't try for humor, and generally aren't comedic.
Magellan Head of Sales and Business Development John Goforth made this note: "The number one thing we hear from our buy-side clients is their desire for new and exciting advertising opportunities in the podcast space. That means both new shows and new ways of delivering those ad messages."
The State of Podcast Advertising is freely available HERE.
.