Only 6,868 new podcasts were launched in December, a 13-month low point. That marker continued a four-month slide as new-show production diminished toward the end of 2021. However, 2021 as a whole produced the second-highest number of new podcasts in 12 years (over 687,000 of them).
These numbers are from Listen Notes Podcast Stats, a monthly reckoning of podcast ecosystem metrics. The charts below illustrate monthly and annual new-show production.

It should be no surprise that the trendline of "dead podcasts" is similar in shape to the trendline of new podcasts — podcasts are easy to start, difficult to continue: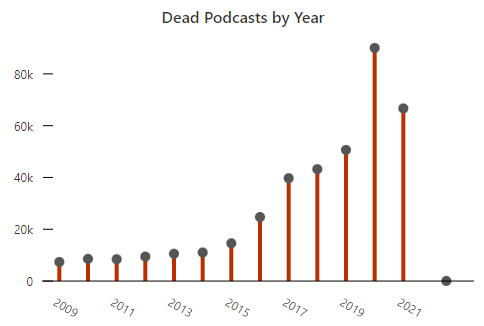 Listen Notes also tracks and ranks the top 100 RSS hosting platforms. Anchor (a subsidiary of Spotify) decidedly owns this ranking with 58 percent of share, representing 1.6-million podcasts. The #2 hosting platform, Buzzsprout, takes 4.8% share, or 129,000 podcasts.
.