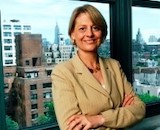 Laura Walker is stepping down from her post as the president and CEO of New York Public Radio. Her departure marks the end of 23 years at the helm of the public radio operation. Walker guided New York Public Radio from its roots as a city-owned station to an independent nonprofit composed of eight radio stations, the Gothamist website, and 18 nationally distributed programs and podcasts with a monthly audience of 26 million people. With her exit, Walker will be pursuing other opportunities, including a university position and starting her own venture.
"Leading New York Public Radio over the last two decades has been the honor of my lifetime," Walker said. "During my time at NYPR, we have grown our audience from 1 million to 26 million monthly listeners, strengthening public radio at a time of great disruption in the media industry, and have become a leading player in the exploding podcasting space. I'm deeply proud of the many programs we have created—from Radiolab, More Perfect, The New Yorker Radio Hour, All of It and On The Media—the capital campaigns that have raised more than $160 million and the many ways we've endeavored to meet our mission to 'make the mind more curious, the heart more open and the soul more joyful.' I am leaving NYPR well-positioned to continue to do groundbreaking multiplatform journalism and music programming for listeners of diverse backgrounds, in New York, across the country and around the globe."
"Laura Walker took New York Public Radio from its modest beginnings as an independent startup to the internationally-recognized audio and journalism leader it is today," said Mayo Stuntz, chair of the board of trustees. "When Laura first took the helm at WNYC's former home in the New York City Municipal Building, it was hard to imagine that the next 20 years would see a 2,000% increase in listenership, a newsroom expansion from just 3 reporters to 70, a 20-fold increase in annual budget, and the creation of new content—from Radiolab to 2 Dope Queens—heard and enjoyed all around the world."
The board of trustees will have a subcommittee begin searching for New York Public Radio's next leader. Walker will remain the CEO through March 31, and will be available to assist with the leadership transition through June 2019.