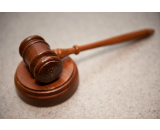 It seems yesterday's news was just the tip of the iceberg in Grooveshark's copyright woes. Today, a district court judge ruled that Grooveshark is liable for copyright infringement because its employees uploaded tracks without the labels' permission. The judge determined that these uploads were not protected by the DCMA safe harbor provisions.
The distinction here is between hosting and uploading. If Grooveshark were simply hosting a service where some of its members were uploading illegal content, then the charges would be against those individuals. Since the staff, including CEO Samuel Tarantino and Chief Technology Officer Joshua Greenberg, have been accused of uploading that protected material, the company itself is now liable. The company reportedly uploaded 5,977 tracks without proper licenses.
"The company respectfully disagrees with the court's decision and is currently assessing its next steps, including the possibility of an appeal," John J. Rosenberg, a lawyer for Grooveshark, told The New York Times.