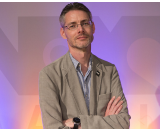 James Cridland, radio futurologist, is a conference speaker, writer and consultant. He runs the media information website media.info and helps organise the yearly Next Radio conference. He also publishes podnews.net, a daily briefing on podcasting and on-demand, and writes a weekly international radio trends newsletter, at james.crid.land.
---
I've spent the week without my MacBook Pro, which after just 26 months began to suffer from the tell-tale signs of an expanding battery. I'm getting a bit worried, given I'm doing two presentations next week – one to Rogers on Wednesday, and one at Canadian Music Week on Thursday (and no, they won't be the same). I sure hope it'll be ready to collect when Apple told me it will.
Instead of my AUD$2699 MacBook Pro, I've been using my AUD$640 Chromebook for everything over the past week (using the same keyboard and big screen in the office as I always do). It's been very interesting how capable the machine really is, and in many ways I rather prefer it. If you use Chromebooks, ChromeOSv74, which came out last week, has audio playback from Linux apps, so you can use Audacity or the much more preferable Reaper to edit audio if you want. I've been using my USB microphone and Auphonic Edit, instead.