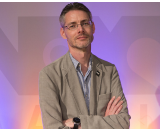 James Cridland, radio futurologist, is a conference speaker, writer and consultant. He runs the media information website media.info and helps organise the yearly Next Radio conference. He also publishes podnews.net, a daily briefing on podcasting and on-demand, and writes a weekly international radio trends newsletter, at james.crid.land.
---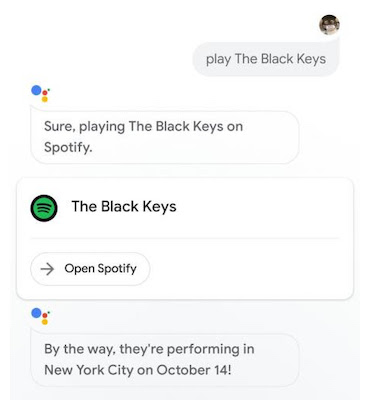 Hello. It's been quite a month: Podcast Movement, then Radiodays Asia. Podcast Movement was fascinatingly busy. This week, I was due to be in Orlando FL, but it's turned out to be a bit windy, so I'm staying at home instead (and going to Amsterdam early next week instead).
Left – Google Assistant plays DJ. Not only does it play the song you want, but (in this example from a user in NYC) it even highlights their next gig. You know, like radio DJs do.
SiriusXM launches a channel full of fitness cycle instructors. "I thought you're amazing. It's so creative," gushes an analyst from Merrill Lynch in response. Suddenly, the state of some of US radio is a little more obvious – it's whatever brainless banking analysts like.
Fascinating how this bit of BBC Radio 4 from 1969 ▸ sounds almost identical to 2019 in style. Fascinating? Or a bit worrying? Is there a missed opportunity with how we do radio news?
RAJAR, the UK's audience figures, came out early last month. Here's Matt Deegan's take, highlighting Scala's lukewarm launch (and oddly quoting a lyric from the Monkees). And here's Adam Bowie's thoughts, including an overlap graph showing Scala, Classic FM and BBC Radio 3's audiences.
Surprising to see the slow decline in Manx Radio's hours and audience. What happened? That used to be an unassailable station. Also from RAJAR – the most popular radio stations in the UK are… BBC Radio 2. And Island FM.
"As Media Options Increase, Radio and Podcasts are Go-To Music Sources for Consumers in Canada" says Nielsen (who don't have the contract to measure radio in the country, incidentally)
Here's a clever visual augmentation app for radio from the BBC. It's the latest in many, many iterations: somehow technologists love the idea of pairing visuals with audio. At Podcast Movement, I saw the Adori platform, which does similar; there's also Entale – and that's just from the last twelve months. Fifteen years ago I was playing with Nokia Visual Radio for Virgin Radio. As ever, the difficulty with all these things is a) a rich enough experience while maintaining b) quick production of visuals at scale, and c) convincing people to look at the screen. I'm not convinced we've got there yet.
This tweet is worth a read if you think radio just has to have local studios to succeed. It doesn't. If you're a local radio station, and you cover a town which was at risk from a dam bursting, why the hell wouldn't you do live programming? Astonishing – and if Ofcom had any balls, they'd terminate the licence of this station immediately. Amateur nonsense.
A change to the TV licence fee in Ireland – it'll be replaced with a licence fee for consuming publicly-funded content, rather than a fee for a telly-box. Makes sense to me. Interestingly, and slightly oddly, one of the justifications for the TV licence in Ireland (€160, £145, US$175) is that it keeps rural Post Offices open.
Fun story from Australia, as two cricket fans bid for the radio cricket rights coverage – and won. Good for them!
Podsights releases "Open Downloads" spec – interesting move. Podcast companies currently have to pay $45,000 to get an IAB seal of approval; but the IAB's guidelines don't actually give robust numbers that are identical from each host.
Rosie Smith and I end up talking about the future of radio with Malaysia's BFM. I'll almost forgive the lazy buggles headline. Almost.
Video Saved the Radio Star – shared without comment
If you ever needed evidence that radio is becoming more multiplatform, Entercom have just launched a sports radio network… without a transmitter.
iHeartMedia will start airing its own podcasts on over 200 of its radio stations every Sunday.
Podcast: "the reinvention of radio" according to this article.
How sad. Viking FM, a station I worked at with a proud history, is closing down (moving to a city with no affinity to its broadcast area). Disappointing. When I worked there it was the network hub, broadcasting two stations 24 hours a day. It's now reduced to having one four-hour local show a day.
German station FFH is the latest to produce four new webstreams that contain content from the main simulcast, but with different music
Quebecor's QUB radio introduces customizable morning show – looks intruiging. This is a bit more than the FFH example – you can pick and choose which bits you want as part of the experience.
In the UK, Bauer Media unveils new online stations and podcast – and Global retaliated only a few weeks later by launching five new stations. There's certainly a race going on in the UK; strange how the race is to emulate Spotify, rather than to focus on local audiences (which Spotify can't do).
Twitter will no longer accept advertising from state-backed news organisations. (BBC, PBS etc is apparently still fine – here's hoping they've a robust definition of "state-backed", since both the BBC and the ABC take money from government.)
KFOG radio station going off the air: 'We knew this was gonna happen' – it's certainly the most famous radio stations I know in San Francisco, so it's sad to see it disappear. Can't say I ever listened, though.
AdsWizz & Big Mobile Successfully Track Increase in Store Visits Driven By Audio Ads – the interesting bit in here is that they claim "more than a 90% lift in footfall traffic to their retail locations when individuals listened to their audio ads", which is quite a claim.