James Cridland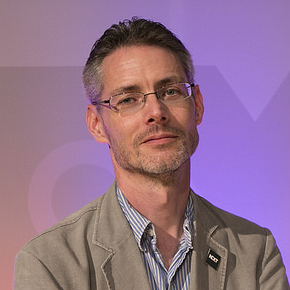 , radio futurologist, is a conference speaker, writer and consultant. He runs the media information website media.info and helps organise the yearly Next Radio conference. He also publishes podnews.net, a daily briefing on podcasting and on-demand, and writes a weekly international radio trends newsletter, at james.crid.land.
---
Sometimes, radio's simplicity is to its benefit.
KUOW, a radio station in Seattle, broadcasts an HD Radio signal with some images, as many do. There are two sets of images broadcast with HD Radio as I understand it – a station logo, and something called Artist Experience® for now-playing information.
The station logo image is trickle-broadcast every fifteen minutes or so, and is cached on the radio receiver in the car. Images ought to be 200×200 pixels, be under 24 Kbytes, and "may be of JPEG or PNG formats".
Image files can be called anything. This image has a file extension of .jpeg, and my Mac happily tells me it's a JPEG file, but actually, it's a PNG image. The file extension doesn't matter; it's what's inside the file that matters.
As Ars Technica reports, on Jan 30, the station broadcast an image without a file extension (.jpg or .png).
This confused the badly-coded radio receiver inside some Mazda cars, which promptly crashed, and reboots. On rebooting, the radio tunes into the last station it was tuned to, fetches the station logo from memory, tries to display it, gets confused, and crashes again. And so on, and so on.
The only way to fix this, apparently, is to replace the radio receiver itself, which is $1,500. Mazda are apparently giving affected customers a replacement for free, except you can't get any replacements at the moment.
It would be easy to lay the problem at the door of KUOW for broadcasting an image that was out of spec (though I can't see the spec, and it might be that the spec doesn't stipulate a file extension).
But: Mazda has previous experience in dodgy software, as this episode of Reply All highlights. Trying to listen to a podcast called 99% Invisible, the radio broke. It turns out that it didn't like displaying the percentage sign (I think in the Bluetooth stack) – a percentage sign can be used for character encoding, so %20 in a URL is the same as a " " – a space.
All this highlights a few things: first, following a specification is important (both for broadcasters and for receiver manufacturers). But, secondly, this may make auto manufacturers more wary of adding new technology to their car radios. And that would be a shame.
---
.