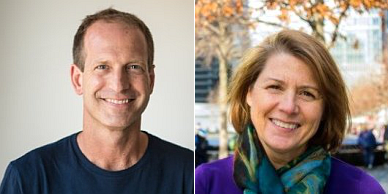 Last week we covered the launch of RadioPublic, a for-profit, public benefit corporation spawned by PRX, the open marketplace which brings together audio producers and public station program directors. RadioPublic, whose name is a clever twist on "public radio" which extends its meaning, is easily defined as a new podcast company. But the deeper mission is to reinvent radio for an epoch defined by mobile listening and on-demand content. "Radio is ripe for a remake," the RadioPublic website states.
To dig deeper, we spoke to Jake Shapiro, former CEO of PRX and founder/CEO of RadioPublic, and Kerri Hoffman, the new PRX CEO. Hoffman had been COO since 2002.
The Future of Radio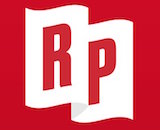 "We're really talking about the future of radio as it shifts and transforms into a mobile and on-demand world," Jake Shapiro said, in discussing the the scope of podcasting's future and the purpose of RadioPublic. "We know that shift is upon us. We've seen it in other domains, video and music. It's not that broadcast ceases at any time. It's just that the entire infrastructure and consumer habit and sources of talent are making the shift. We think that PRX and RadioPublic can lead that."
RadioPublic has received a seed round of funding, and the expectation is to build a startup staff of six to 10 people. Shapiro predicted investment growth, and staff growth, in the future. At the same time, he noted that a tight partnership with PRX, which is staffed in certain specialties, instantly gives RadioPublic access to resources. "Some aspects of our operation we don't intend to hire for, because we can operate through our partnership with PRX," according to Shapiro.
"We've worked together for over a decade," said Kerri Hoffman. There are so many ways that the opportunity of the partnership feels totally natural. We've learned a lot of lessons together, we've evaluated the future through the same lens. It gives us a tremendous advantage as we embark on the next essential path to increasing a mobile audience around audio — and also strengthening public media as a service."
While PRX was founded mainly as a marketplace for terrestrial radio programming, it has always leaned into the future. "We've always looked for opportunities beyond broadcast, for digital distribution," said Hoffman. "We've been involved in podcasting since the beginning of podcasting — you've always been able to listen on PRX." (Indeed, PRX is a fascinating listening portal for an incalculably wide diversity of submitted content.)
Reinventing and Re-imagining
RadioPublic's mission is one of reinvention, with a focus on mobile. "Part of our mission derives from our work developing for smartphone apps since they started in 2008." Beyond participating in the consumer migration to smartphone listening, there is a determination to reinvent radio, or at least to optimize it for modern realities of audio consumption.
"There's a whole experience of podcasting that hasn't been revamped for a new generation of people who are unfamiliar with it. A lot of podcasting has remained unchanged for the decade since it began. Things like managing subscriptions and feeds and navigating as if it were a feed reader — we think that's not necessarily the best experience."
Shapiro talked about blending the best or traditional radio and new audio trends. "We also know that there is something simple and beautiful about radio, in interface that has existed for 100 years. We think it can be re-imagined in a way that integrates the remarkable complexity and diversity of podcasts — and the expectation that many listeners have for on-demand access to everything."
The first step, Shapiro says, is to develop new consumer interfaces for discovering content and listening. "So a lot of it comes down to the user interface. The first set of work is around designing that and testing that, then releasing something that we think will help broaden the pool of people who are starting to come into podcasting, many of them being habitual radio listeners."
Data and Measurement
We asked Jake Shapiro about audience measurement in podcasting, widely identified as a pain point in the evolution of the podcast category, though some network leaders minimize the importance of a third-party standard. I podcast measurement on RadioPublic's radar as an issue? "Definitely," Jake Shapiro said. "We do know there's a tremendous advantage when you're controlling the touchpoint where listeners are consuming audio. in which case there a fine-tuned metrics and understanding of exactly how and where and when users are consuming audio. It's very different when your pushing content out to many touchpoints and clients and apps, many of which (including the biggest ones) don't provide access to data."
Shapiro observed that good data creates a win-win for listeners and marketers which advertise in podcasts. "We're designing RadioPublic knowing that there's a great need for data, working closely with PRX and producers, knowing they will be our first users. That starts a feedback loop where the data informs producers about their listeners which starts to shape the content. That's of tremendous value to sponsors and advertisers. We think we can do a better job of matchmaking. Listeners get more of what they want to listen to, and it's more valuable to sales forces and advertisers."
Looking Ahead
What does the future hold for the on-demand audio industry as a whole? Kerri Hoffman is impressed by the rise of content — in volume, diversity, quality, and sources. "As technology improves, the innovation has shifted into the content. We recently conducted a contest to find the next Radiotopia show. We were looking for new ideas, something that hasn't been produced yet. We received over 1,500 entries, from 50 different countries. And you couldn't just send an email clip; there was rigor to the process. That was an interesting moment to use. We were excited by the variety of ideas and the global reach."
From Jake Shapiro: "There really isn't a limit. The contours of what's possible are completely different when you're no longer measuring it by the contours of terrestrial reach."