In its quarterly survey of podcast listening, Media Monitors determined that iHeartRadio and NPR were the top two podcast publishers in Q2, as in Q1. Whereas in the first quarter the two behemoths were tied for the #1 spot, in Q2 iHeart jumped into a substantial lead.
What does it mean? Here's the methodology. Media Monitors surveys consumers (about a thousand of them in June for the Q2 report), asking them to name podcasts they've listened to in the last week. Those results create a Top 200 list of podcasts. The company then tracks the show back to its publishing network to tabulate the Top Publishers list, which is based on the number of shows which landed in the Top 200 list.
In this latest report, 17 iHeartRadio podcasts were among the top 200 shows that survey respondents listened to in the past week. NPR landed 12 shows. In the previous report (first quarter 2021), each network could claim 12 shows among the 200, for a first-place tie. Here are some six-month trendlines provided by Media Monitors: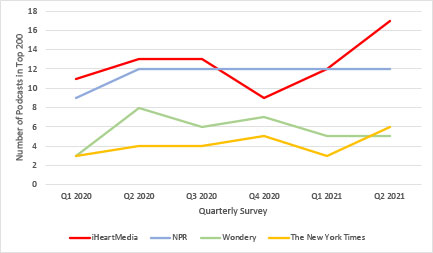 As with most podcast rankers which land on our screens, stability rules for the most part. In Q2, Media Monitors discovered four publishers which did not appear in the Q1 Top Publishers (see below) while 10 networks were repeats. The top three spots were unchanged from Q1 to Q2. Below is our Q1-Q2 comparison.
Media Monitors also reveals the top 25 podcasts mentioned by survey respondents. The Joe Rogan Experience is #1, unsurprisingly, and The Daily is #2. See the entire list, and other survey results, HERE.
.