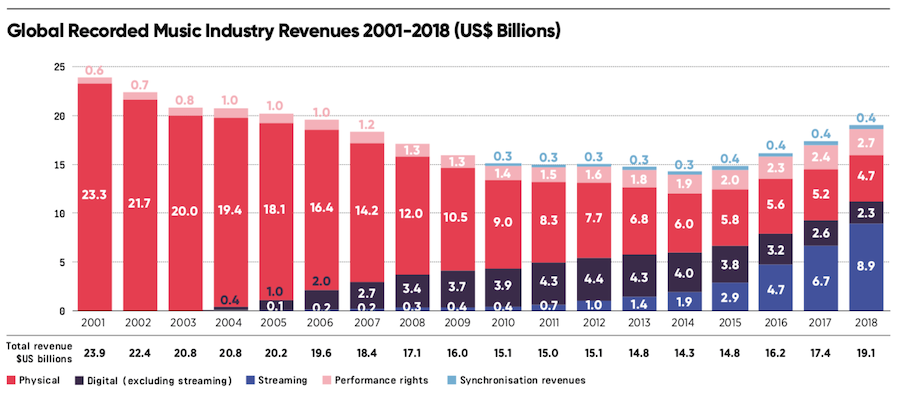 The report found that the global recorded music market reached revenue of $19.1 billion. That figure grew 9.7% over 2018, marking a fourth consecutive year of growth and the highest rate since the IFPI began tracking the metric in 1997. Digital sources accounted for 58.9% of the international total, or $11.2 billion. It was the first year that digital formats surpassed $10 billion in revenue. Digital was more than half of music revenue in 38 markets measured by the IFPI.
Paid subscription streaming was a main driver of the overall performance, contributing a 32.9% revenue increase during the year. It now holds a 37% share of total global recorded music revenue. The 255 million international subscribers generated revenue of $8.9 billion. Ad-supported streaming delivered 10% of the industry total, while downloads and other digital held a 12% share and physical formats provided a 25% share.
The report broke out results for some of the major regions. Europe posted very slight growth of 0.1%. Paid streaming saw a positive result, growing 29.2% across markets, while physical revenue dropped 19.4% and downloads declined 24.3%. Although countries with well-established streaming music audiences saw mostly modest growth, Germany and its physical-focused industry posted a decline in revenue. Germany was also overtaken by the UK as the largest European market this year.

Other regions reported more notable increases in their results. North America had 14% growth on the back of 33.4% streaming revenue growth. Latin America's music revenue grew 16.8%, while Asia and Australia posted 11.7% growth.
The IFPI highlighted a few countries that had strong future potential for music industry growth. Many of these markets are just beginning to take advantage of digital resources and to more heavily adopt streaming services. Analysts pointed to Brazil, South Korea, China, the Middle East, and North Africa as promising horizons for large growth in the coming years.
The report shared the top 10 artists by global performance, and the list points toward a few trends. First, it shows both how streaming services can create expontential popularity spikes for the top echelon of performers. Second, it shows that the film industry can be a beneficial, symbiotic relationship. Drake was the king for yet another year, and other streaming-record-smashing artists Ed Sheeran and Ariana Grande also made the top 10. K-pop group BTS landed the second spot, proving the power of international fandom. Queen and Lady Gaga also secured spots, likely bolstered by the Bohemian Rhapsody biopic and the retelling of A Star Is Born.