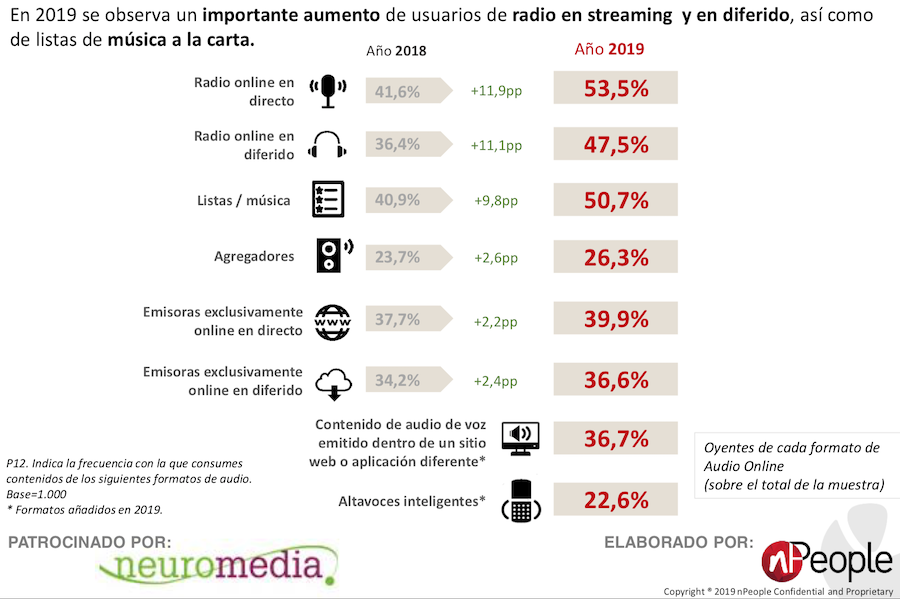 IAB Spain has released a report on the audio industry in the country.
More than half (57%) of Spanish adults said they listened to online audio in the past month, up from 44% in the 2018 results. The survey included online radio stations, music services, podcasts, audiobooks, and audio on smart speakers in its definition of "online audio." Music was the leading online audio content, securing 46.4% of responses, while online radio took second with 25.7% of the answers. With 19.1%, YouTube was third overall and the highest named brand. Spotify followed with 15.3%.
The results showed increased consumption on-year for all formats. Live radio streaming increased 11.9% and prerecorded radio streaming grew by 11.1%. Music and playlists posted 9.8% growth between 2018 and 2019.
One notable result was a question about how listeners perceive publicity and ads in their online audio experience. The report noted that live online audio sources offered a better connection to listeners. Survey participants had positive reactions to advertisements in live radio simulcasts, online pureplay radio stations, and smart speakers. On the other hand, listeners were most irritated when ads interrupted their experience of time-delayed audio and music or playlists.