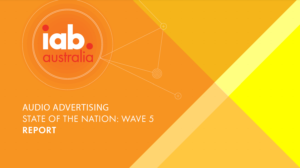 In a deeply informative study executed by Hoop Research Group, IAB Australia surveyed decision makers and influencers in audio advertising. The result is the 5th annual edition (called WAVE 5) of Audio Advertising State of the Nation.
"Despite the impact of COVID-19 on advertising budgets through 2020, usage of digital audio has continued to grow. Over the last 5 years, digital audio market has evolved from experimentation into a more strategically driven brand building approach." –Gai Le Roy, CEO, IAB Australia
Key points from the executive summary:
Audio is playing a more consistent role in media plans than it did 5 years ago. 69% of media agencies now have streaming digital audio advertising as a significant or regular part of their activity and 36% have podcast advertising as a significant or regular part of their activity (increasing from 33% last year).

"With this Wave 5 of State of the Nation we can see usage of digital audio platforms maturing and playing a more consistent role in media plans." –Richard Palmer, Director of Market Development (APAC), Triton Digital
Fifty-nine percent of media agencies intend to buy programmatically over the next 12 months, with intentions to buy multiple types of programmatic such as open exchanges, guaranteed and private marketplace deals increasing on last year.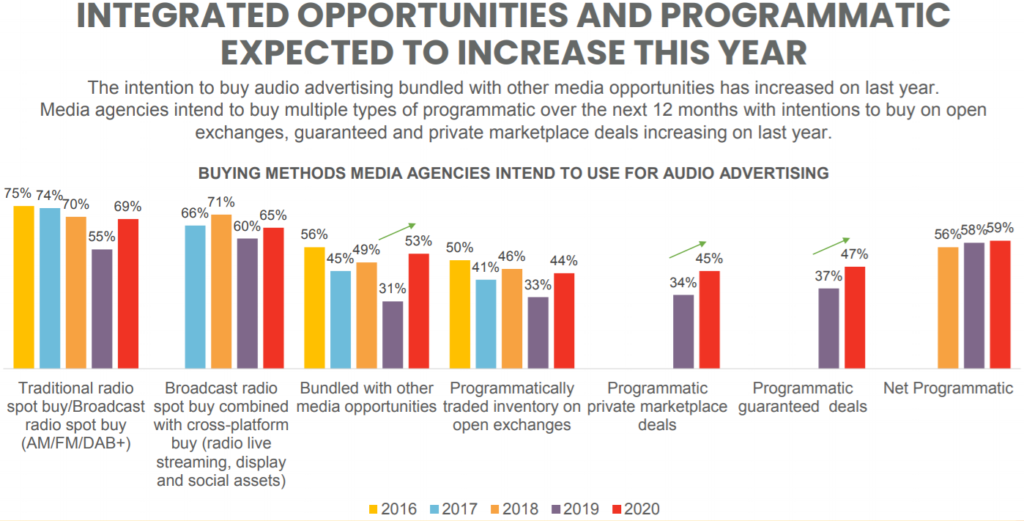 A third of media agencies are not tailoring creative to suit different audio environments when running campaigns across different broadcast and digital audio advertising options, this has not improved over the last year. There is room for improvement, the IAB says.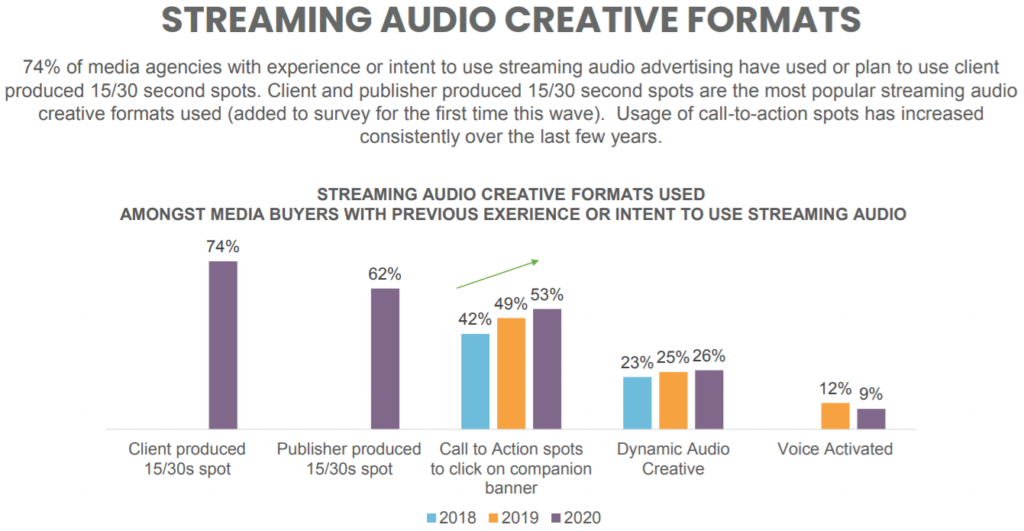 According to media agencies, the lack of effectiveness evidence and measurement/standardized metrics remain the top opportunities for audio advertising to drive a larger share of advertising.
Other potential areas of improvement include a wish among buyers for integrated buying and selling across all audio. (This is a perennial wish for integrated audio measurement, planning, and verification that RAIN has observed for years.) Other wish-list items from the IAB's survey:
More case studies
Greater ability to track campaign performance
Highlighting complementary roles of traditional radio and digital audio
Standardization and transparency
Understanding consumer behavior
The report does cover podcasting. News is the most important category for advertising, with 47% reach among the surveyed buyers. society & Culture is nealy as much in demand, at 46%, followed by the Business category of shows which drew 42%.
When it comes to the type of audioe creative used in podcast ads, four main types are on the upswing, while branded podcasts are less used, and seem to be trending downward: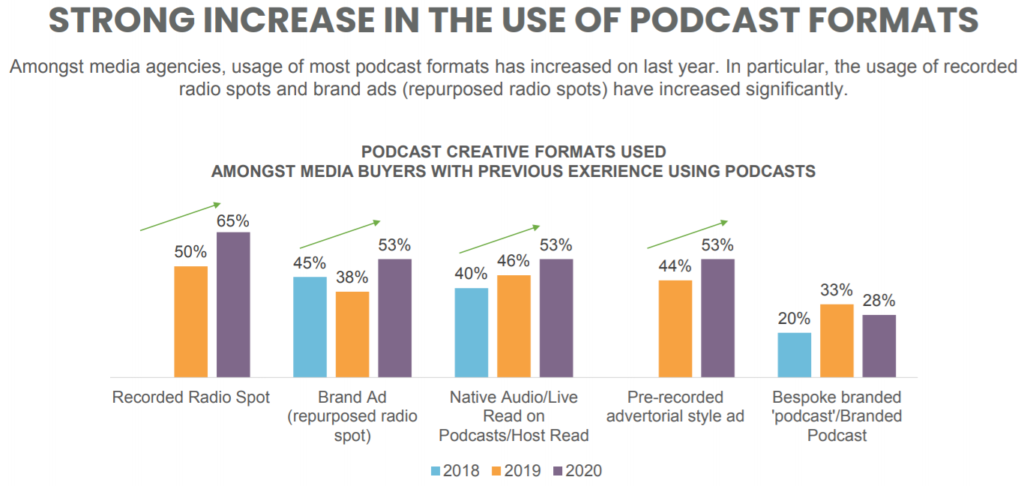 There is much more to this 37-slide presentation, which was delivered at the IAB Audio Summit in Sydney this week. The free download is HERE.
.