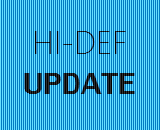 A round-up of recent news in high-definition audio.
---
When your digital library comes from several sources, you're likely to find several different formats represented. Style Jukebox, which recently released a new web app and a revamped iOS app, aims to collect them all in a single music player. It's an agnostic service, able to stream everything from your library in the format it was originally uploaded in. That means CD quality from the CDS you ripped (after legally purchasing them, of course). Premium accounts support FLAC and M4A lossless file formats in addition to the more common MP3, WMA, AAC or OGG formats.
---
Since first hitting the web, Pono Music has promised listeners a new ecosystem designed around higher quality audio files. While that vision certainly captured the minds and dollars of many music fans, Pono and its approach have been subject to skepticism of late. The New York Post alleged that some engineers and execs from the project see the high-res banner as a marketing tool rather than a noticeable improvement in sound quality. Gizmodo also ran a critique of the science behind both Pono and the general high-resolution music trend.
---
On the flip side, high-res still has many strong supporters on the business side of the music industry. The Music Business Association and the Consumer Electronics Association actually have a High Resolution Audio initiative, and it recently put out an infographic to clear up some of the confusion on the controversial topic.