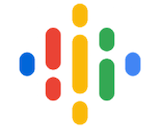 The Google Podcasts app has been updated with a new, more specific level of recommendations. The software has added a "Recommended" tab to the home screen, and this area includes suggested episodes that a given individual would enjoy based on recent listening.
This feature could be a way for listeners to keep up with favorite celebrities when they appear as guests or just to learn more about topics of interest.
Episode recommendations appear to be launching as a server-side update, meaning the rollout to listeners could be awhile away yet.
The mobile podcast app launched last June, and marked Google's first effort for a dedicated first-party podcast platform. The app was on the minimal side at launch, and has since added episode-specific search results and Android Auto support.