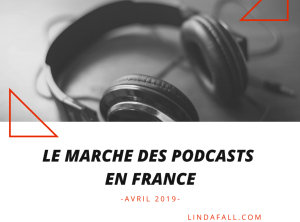 We read in Podnews about an independently produced report on the state of podcasting in France. If is free (GET IT HERE; the report is in French), and created by Linda Fall of La Lettre, a newsletter about podcast marketing. The document surveys current metrics of podcast listening, audience demographics, and the industry's challenges and opportunities.
The foundation statistic of the report is 37% of French people listened to at least one podcast in 2018. An interesting comparison is drawn to audiobooks, which enjoy only a 16% share in 20189. Both those metrics come from an Audible survey in January of this year.
In one month last year, 28% of French folks listened to a podcast. (Reuters is the source for that stat.)
Men are more likely to listen than women, in France, and the key age group is 36-45 which owns 23% of that share.
In identifying challenges and opportunities for the French podcast industry, the report describes much of what creators, publishers, and distributors say in the U.S.
CHALLENGES:
Better discovery to grow audience
Educate newcomers to reduce friction
Bringing podcasts to the mainstream
Create more native podcasts to compete with radio-generated podcasts (not so much an issue in the broad U.S. market, even with public radio's leading position)
Monetize the audience with the right business model
OPPORTUNITIES:
Listeners are loyal and attentive
"Socially inactive" population groups presumably have more time for listeners, and should be sought
Create more local podcasts
Variety of revenue models including subscription with payment
Audience measurement is an issue in France, as in the U.S., and the report advocates for a cross-platform standard. Linda Fall calls Apple podcast metrics "insufficient."
Very interestingly, Erik Portier, Chief Revenue Officer of Radionomy Group, is quoted saying that the average podcast CPM is 20 Euros, double the CPM income of streaming radio.