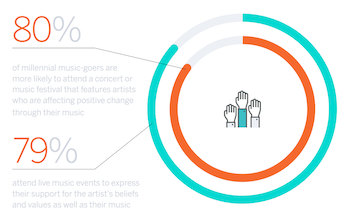 Eventbrite published a tipsheet about Millennials live music preferences. The ticketing service found that nearly 40% of millennials attended some type of concert or performance in the past year. Music festival attendance was also high among millennials, increasing from 17% in 2014 to 29% in the current study. The results are based on a pull of more than 2,000 U.S. adults in April 2017.
Positive impact was a key influence on this age group's decision to attend a show, with 80% more likely to go to an event featuring artists using music for social changes. 79% said they attend live music events to show support for the beliefs held by that performer.
Past research from Eventbrite pointed to connections between concerts and streaming, and although the new study doesn't have a digital emphasis, the insights into this demographic are still useful given their high interest in live shows. Many streaming services and broadcast outlets have explored use of concerts: iHeartRadio has a long history of megastar concerts, Spotify is taking RapCaviar on the road, and even Shazam is getting in on concert listings. With the right messaging, live shows are looking like a good path toward reaching a millennial audience.