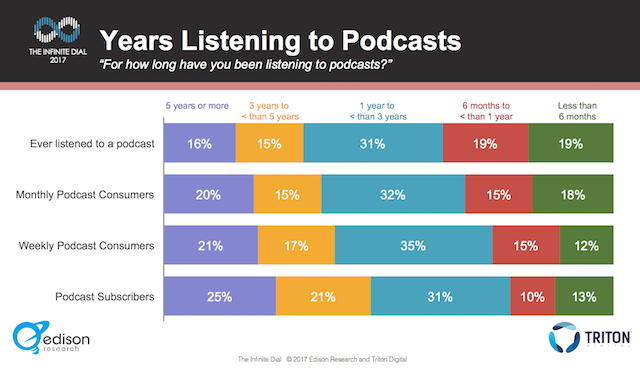 Edison Research produced its Podcast Consumer 2017 webinar today, revealing survey information from Edison's two large, long-running studies of American listening, The Infinite Dial and Share of Ear. Edison VP Tom Webster presented over 30 minutes of survey statistics.
Some of the metrics presented today were shown in the Infinite Dial webinar on March 9. part of that larger listening study. (See RAIN's Infinite Dial coverage here.)
Podcast listener attributes were revealed today, including income, education, and employment data. Podcast listeners over-index in all three of those categories:
31% of podcast listeners earn $100k or more, compared to 22% of non-listeners.
Podcast listeners under-index for respondents without a college degree, and rank above the U.S. 18+ population for college degrees and some grad shcool or advanced degree.
63% of podcast listeners are employed full-time, compared to 495 of the general population.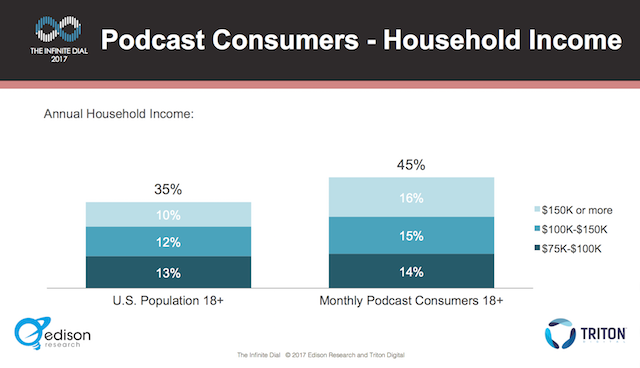 On the income disparity between podcast users and non-users, tom Webster noted that the gap is narrowing. "I will say that gap has shrunk a little bit and will continue to shrink as more and more mainstream Americans discover the medium."
As noted in the March Infinite Dial webinar, survey respondents who have listened to a podcast in the past week reached 15%, an estimated 42 million. Among those weekly listeners, average time spent listening to podcasts was between 1 and 3 hours for 36%. For 22%, the average time was between 3 and 5 hours. Those weekly listeners were keeping up with an average of five podcasts in the past seven days. The average time spent with the format for weekly podcast listeners is 5 hours, 7 minutes. That crunches out to about an hour per show.
The presentation broke out more detail on smart speakers, which are an emerging technology for home listening. For the average population, 7% of respondents own either an Amazon Echo or a Google Home device. Among the respondents who are monthly podcast listeners, however, the rate is 11%. Those few percentage points seem like a compelling trend at this early stage in the product category's life. "It is a real opportunity for podcasting," Tom Webster said. However, he cautioned that "discovery on a device with no screen is even more of an issue" than on existing platforms.
Webster also issued a general advisory about content discovery, underlining a difference between "pushed" and "pulled" content, and the tremendous advantage of leverage marketing.
"Discovery in podcasting is difficult. Discovery is a 'pull' to get people to listen to a podcast. Let's not forget the 'push.' When you look at the success of public radio in podcasting, the cross-promotion [from terrestrial radio marketing] is important. The only way to make it big in podcasting, is not just to rely on Pull, but to use an outside agency to become known."
One of the most intriguing slides tracked how long different types of listeners have been tuning in to podcasts. Across all types, between 1 and 3 years was the most common response. But for podcast subscribers, a quarter have been listening for 5 or more years, and 21% have been listening for 3 to 5 years. That shows a surprisingly stalwart contingent of listeners who have been involved from before the current wave of podcast popularity and growth.
Concerning program content, Tom Webster articulated a difference between serving great content with interesting ideas, and service audience needs. "Content is not king. The audience is king. There are huge underserved audiences for spoken-word media."
The share of Ear study measures time spent with different audio sources, presented in percentage terms. the most recent research that includes breaking out podcast listeners shows how listening to podcasts can displace radio listening:
---