Tom Webster, senior vice president at Edison Research, presented data yesterday at the RAIN Podcast Business Summit. The slides covered results from several Edison research projects: Share of Ear, Podcast Consumer, and The Infinite Dial, reflecting the latest snapshots of podcast listening in the U.S.
Among Americans aged 13 and up, AM/FM radio took a lead with a 44% share of time spent listening to audio sources. Streaming audio came second with 17%. Owned music had 11%, while YouTube and Sirius XM each posted 9%.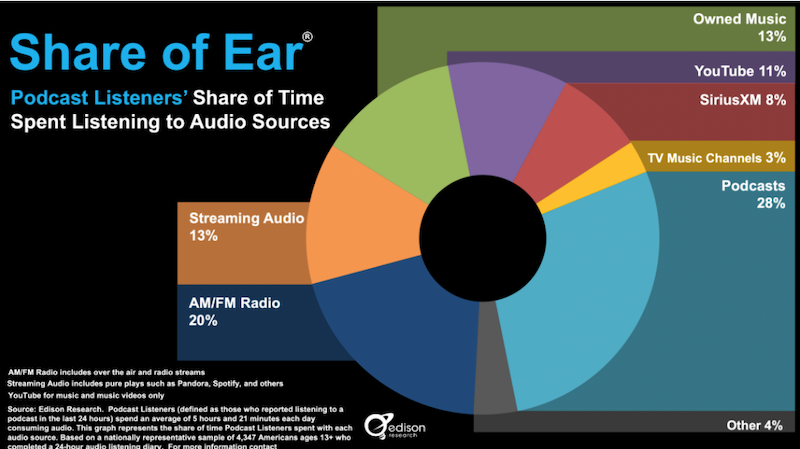 Within podcast listeners, the shares followed a very distinct distribution. Podcasts were the leading share of time spent listening to audio sources with 28%, trailed by AM/FM radio with 20%. Streaming audio and owned music came next with 13% each. YouTube took 11% and Sirius XM had 8%.
The latest results from The Infinite Dial survey also found that podcast familiarity is continuing to rise. In 2020, 75% of the U.S. population age 12 and up was familiar with podcasting. That percentage represented about 212 million people.
Comedy was the most popular podcast genre, with cumulative total weekly reach of 38%. Society & culture and news tied for second with 24% shares apiece.