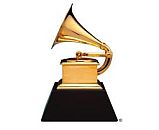 Music's biggest night is always preceded by a wave of predictions. This year is no exception, and in fact, the growing number of channels listeners use to experience their favorite tunes have created even more ways to analyze who might walk away with a Grammy award.
Deezer made its own accounting of the likely winners based purely on number of streams. Based on the company's global streaming figures, "See You Again" by Wiz Khalifa would win Song of the Year. Fetty Wap's "Trap Queen" would beat out even the immersely popular Drake for Best Rap Song if streaming counts were the decider. Meghan Trainor would take Best New Artist and Mark Ronson's ubiquitous "Uptown Funk" would secure Record of the Year.
Billboard also turned to digital data for a breakdown of the nominees, but focused solely on YouTube performance in major cities. The infographics revealed some intriguing data points. For instance, Record of the Year noms "Uptown Funk" and "Can't Feel My Face" by The Weeknd both had the most YouTube streams in London, while Taylor Swift's "Blank Space" was most YouTubed in Bangkok. And Meghan Trainor was the top YouTube performer of the new artist nominees, pulling in nearly 27 million views in Mexico City alone.
Obviously, streaming results have zero impact on the actual winners. But it is fascinating to see how big a global sensation some of these nominees were last year.