A new eMarketer research study performed in April forecasts growth in time spent listening to digital audio, especially in mobile delivery, while radio listening is predicted to dip slightly.
The report tracks average time spent with media categories in the U.S., and covers audio, social networks, and video on the digital side. Traditional media categories tracked in this study are TV, radio, newspapers, and magazines.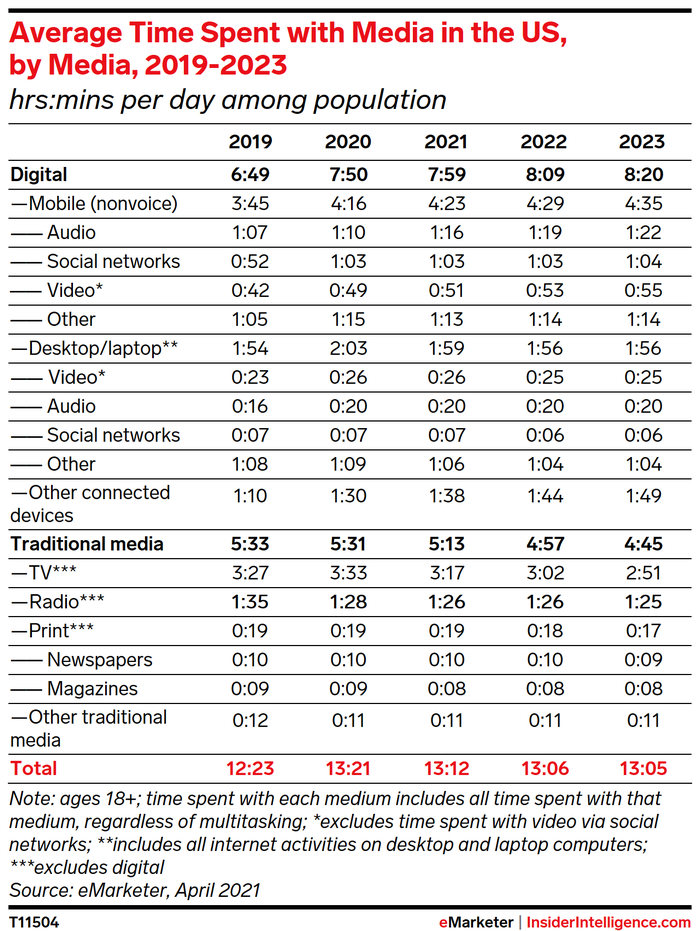 Digital audio delivered via computers is slight compared to mobile — only about 20 minutes a day. Digital audio over mobile devices (mostly phones, we surmise), is about a minute longer per day. The mobile delivery of audio is growing much faster, too, about 22% more time spent from 2019 to 2023 (projected).
By contrast, radio's time spent is projected to dip over 10% from 2019 to 2023.
In the perspective of corporate property ownership, this study can be somewhat beside the point. When you consider that the largest traditional radio companies own some portion of digital audio listening via their podcast holdings (notably NPR, iHeartMedia, and Audacy), those traditional brands enjoy some of the time spent (and audience reach) that belongs in the digital category.
.