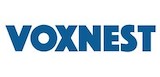 Deezer has entered an agreement with podcast platform Voxnest. The new deal will bring podcasts on the Spreaker platform (owned and operated by Voxnest) to audiences in Colombia and Brazil on Deezer. Spreaker's Spanish-language podcast library includes content from Spain, Colombia, Mexico, and Argentina.
"Latin America, already proven to be one of the most important geographies for recorded audio, is really an untapped opportunity for massive growth," said Rob Greenlee, vice president of podcaster relations for Voxnest. "We're confident this partnership will not only build audiences for existing content, it will push the podcast movement forward in the region."
"We are excited about Voxnest's commitment to grow podcasting as an industry," Deezer VP of Content and Productions Chris Baughen said. "Thanks to Spreaker's extensive catalogue, Deezer can be a platform of choice for the thousands of talented creators who are trying to reach new listeners with their content."
Voxnest is the result of the merger between Spreaker and BlogTalkRadio in August 2017. The company recently hired Jonathan Zenti as its head of content.