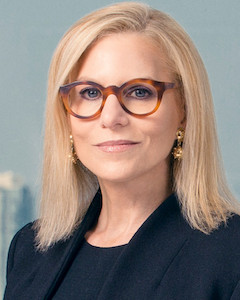 Spotify, in an SEC  filing today, announced that it was cutting about 500 jobs, or about 6% of its 9,800 employees — and that one of its most high-profile executives, Chief Content and Advertising Officer Dawn Ostroff, will also be departing the company.
Ostroff came to Spotify in 2018 after a career at Condé Nast and the CW.  She led Spotify's push into podcasting, including exclusive deals with popular podcaster Joe Rogan, Barack and Michelle Obama, and Prince Harry and Meghan Markle.
During her tenure, the company also made numerous acquisitions in the podcasting space, spending over a billion dollars to buy such companies as The Ringer, Gimlet Parcast, Anchor, Chartable, Podz, Podsights, and Megaphone.
In a blog post, Spotify founder and CEO Daniel Ek noted,  "Like many other leaders, I hoped to sustain the strong tailwinds from the pandemic and believed that our broad global business and lower risk to the impact of a slowdown in ads would insulate us. In hindsight, I was too ambitious in investing ahead of our revenue growth. I take full accountability for the moves that got us here today."
Spotify's Q3 2022 revenues were abut  €3 billion (also about $3 billion USD), up about 12% year-over-while, while, according to Ek's post, their operating expenses grew about twice as quickly. The vast majority of Spotify's revenues (about 90%) are based on subscriptions, not advertising.