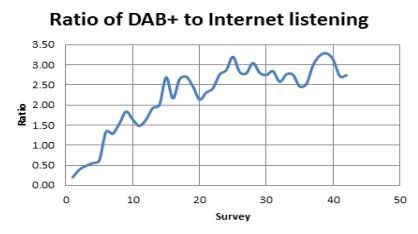 Mobile streaming of radio stations cannot replace digital broadcasting in Australia — that's the message from Commercial Radio Australia (CRA), which commissioned a whitepaper study from broadcast technology expert Professor Reg Coutts. (Full PDF whitepaper here.)
The study promotes DAB+, an international standard for digital over-the-air broadcasting, and compares its adoption in Australia (and other countries) to what it describes as sluggish uptake of HD Radio (a U.S.-only standard) in the U.S. In one interesting chart harking back to 2000, the whitepaper illustrates the adoption curve of DAB+ in the first five years of its life, compared to five-year adoption curves of other technologies including PCs and the Internet: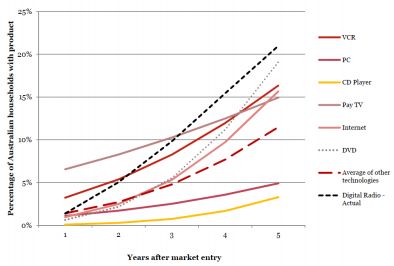 DAB+ is currently rolled out in five of Australia's largest cities, but audiences outside those cities do not have the choice of digital radio. "The Government is currently depriving regional listeners of digital radio unlike their city cousins who have both digital radio and Internet radio."
"Internet radio on smart phones by itself cannot substitute for broadcast radio. Broadcast digital radio is globally where innovation is happening."
Comparing DAB+ uptake to U.S. HD Radio adoption, the study cites Sirius XM as the main differentiating factor: "There are many theories as to why digital radio in the US has failed to develop as is happening in the rest of the world […] the greater success of satellite radio is a distinctive feature."
The study's main thesis — that (in Australia) mobile streaming will not replace broadcast radio — hinges mainly on cost, to both the broadcaster and the consumer. Related to that is a concern that cell capacity at the tower level would be jammed if too many people streamed radio webcasts.
The CRA has been critical of the Australian government before. On January 1 of this year, 200 Aussie radio stations shut off their webcasts because of music licensing costs instituted by the government. Another radio group, Grant Broadcasters, followed suit in April.