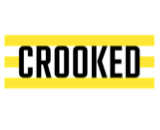 Crooked Media announced its new show lineup for spring and summer of 2020. The politics-focused network is putting out four new podcasts in the coming months. Along with the show updates, the company also noted that its programming has been downloaded 1 billion times.
Here are the new podcasts:
Hall of Shame: Hosts Rachel Bonnetta and Rachna Fruchbom will cover the biggest scandals in sports history. The program will launch this month and release new episodes every Monday.
Unholier Than Thou: This weekly show will explore spiritual and religious topics and how they impact our approach to the rest of the world. Phillip Picardi, former editor-in-chief of OUT Magazine, will host and share his perspective as someone with an "on-and-off relationship with God." The podcast will have new episodes on Fridays beginning in April 2020.
Untitled Damon Young Project: The eponymous Young is an author and founder/editor-in-chief of VerySmartBrothas. His show will be about the experience of black life in America, including how race and racism impact everything from sex to money to death. Episodes will begin in May and air every Thursday.
Prisoner: This special limited series is a companion to the book of the same title by Jason Rezaian. The Washington Post bureau chief was arrested by Iranian police in 2014, and his story explores the geopolitics and tense relations between Iran and America. It will be released this summer.