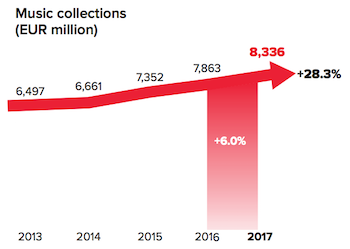 CISAC, the International Confederation of Societies of Authors and Composers, has released its annual report. The organization saw a 6% uptick in global music royalties to reach €8.34 billion in 2017. Digital music collections grew 23.1% to surpass €1 billion. Despite the growth, digital was only responsible for 15% of CISAC music society collections. TV and radio was the largest source of collections at 40.8%.
The United States provided the largest share of music collections at 22.6%. European markets combined accounted for 52.2% of the global total, led by France and Germany at 10.6% and 9.7% shares, respectively. Japan came fourth with 9.6%.
The combined fields of music, audiovisual, visual arts, drama, and literature secured €9.6 billion in global royalties during the year, a 6.2% increase over the prior year to reach a new record high.