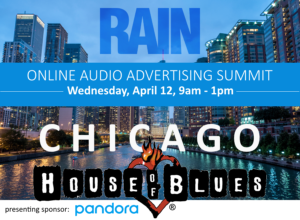 The RAIN Digital Audio Advertising Summit takes place in four weeks, on April 12 at the House of Blues in Chicago. A dynamic program of industry influencers will discuss new research, innovative audio branding, programmatic advertising, the state of podcasting, and more.
One of many highlights will be Tom Webster (Vice President, Edison Research) and John Rosso (President of Market Development, Triton Digital), well-known as the hosts and presenters of The Infinite Dial Webinar, in a moderated discussion of the 2017 edition of that monumental consumer survey. Going beyond numbers, they will peel back to meaning, cause, and context of this year's extensive snapshot of American listening habits and the reach of digital audio.
Event tickets are on sale now with early pricing.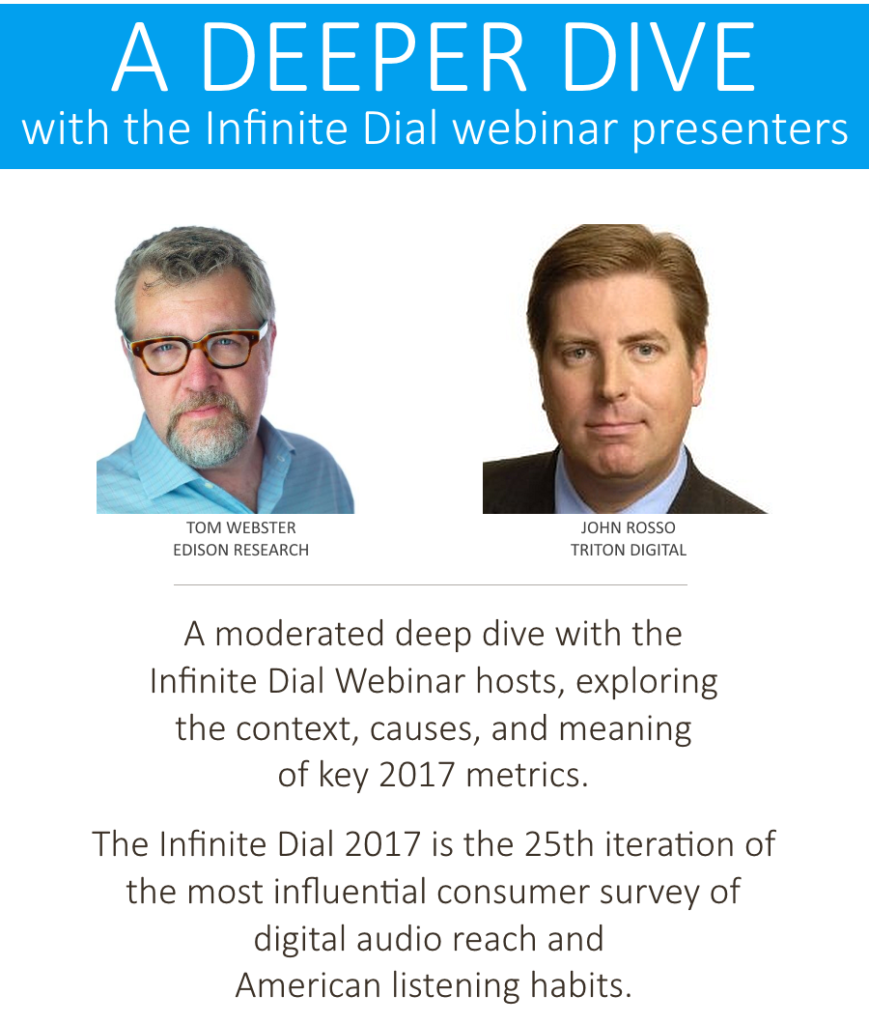 Also featured at the half-day event:
Programmatic Audio in a Data-Driven World — Making the Most of the Moment: 
Audio buying is accelerating and gaining prominence in overall media budgets. We are living in an audio renaissance, as people are consuming content across a variety of devices throughout the day, many without a screen. This constant connection allows us to gather unique data on what people are doing, where they are, and even how they feel. Learn how data is fueling the rise of programmatic audio, and how industry leaders are making the most of the moment-based advertising.
Creative Audio:
Creative audio branding is both art and science. Most of all, there is potential for distinctive advertising that evokes a message and helps define a campaign. What makes great audio marketing, and how is it created? This panel spotlights leaders of innovation and creativity in audio soundscapes for brands.
Podcasting 2017: What We Know and Where It's Going
Podcast awareness and listening are growing, according to Edison Research, and 85% of consumers listen to most or all of their shows. Ad technology is entering the space, and high-quality programs are developed at an amazing pace. At the same time, discovery and measurement remain challenges. Is it a golden age of podcasting, or is the best yet to come? Four of the industry's key influencers discuss the podcasting marketplace in 2017.
CLICK HERE to register while early pricing is in effect.