Podcast discovery is thought by some (not by others) to be a persistent problem inhibiting podcast listening growth. Problematic or not, the Canadian Broadcasting Corporation (CBC) has unleashed a new tool for finding your next favorite show.
Called My Next Podcast, the site is simple. You choose one of 11 categories, click or touch the Let's Go! button, and a show suggestion appears. Could hardly be simpler, and seems like a fun version of a generic podcast directory. The hidden directory behind My Next Podcast is curated by the staff of Podcast Playlist, a CBC Radio program.
Categories for choosing include News, Arts, "Binge-worthy Podcasts," CBC Podcasts (naturally), Comedy, Fiction, Kids, "Teach Me Something," and True Crime. Clicking any result takes you to the show page — there is no native listening with My Next Podcas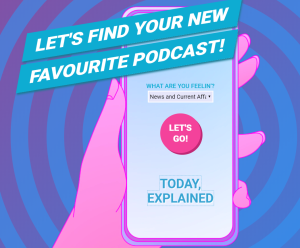 t.
It's fun — any kind of push-button discovery mechanism is appealing; we are reminded of Google's famous "I'm Feeling Lucky," which, by the way, has evolved into an expanded set of feelz.
At the same time, though, we couldn't help but compare My Next Podcast's simplicity with Earbud.fm, NPR's elaborate podcast discovery community, which surfaces specific episodes powered by crowdsourced recommendations, and also divided into unique categories.