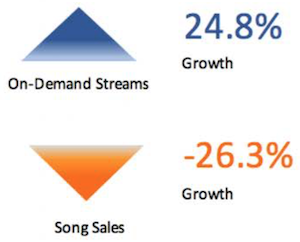 BuzzAngle Music released its 2019 music consumption report. The data company found that the United States surpassed 1 trillion on-demand streams for the first time. On-demand audio generated a record high of nearly 705.86 billion streams during the period, growing 32% from the previous year. Audio was 69.9% of the year's total on-demand streams. On-demand video grew 10.6% to 304.1 billion streams.
Total music consumption grew 13.5% for the year, continuing the double-digit growth of 16.2% in 2018 and 12.8% in 2017. The report found 795.9 million album consumption unit sales in 2019. Streaming represented 85% of the year's music consumption.
Overall album sales fell 23%, following an 18% drop in 2018. Digital album sales had the biggest drop, declining 26.6%. Vinyl continued its positive trend, growing 10.5%.