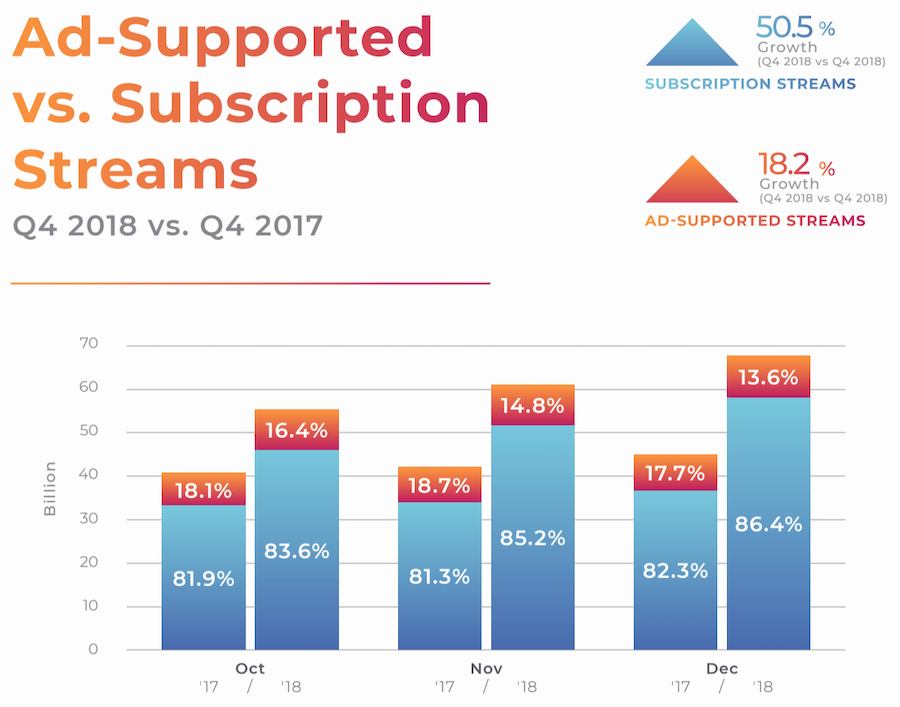 BuzzAngle Music has released its 2018 report on the U.S. music market. The analysis showed 16.2% in total album consumption during the year compared with 2017, while total song consumption rose 27.4%. On-demand streams in 2018 totaled 809.5 billion, including 534.6 billion audio streams. Those figures rose 35.4% and 41.8%, respectively, from the previous year's results. The on-demand streams represented 77% of total music consumption in the United States for the year.
The report shared statistics about streaming subscriptions just in the fourth quarter. Out of nearly 184.87 billion on-demand audio streams in Q4 2018, subscriptions accounted for 157.41 billion of them. Subscription streams increased 50.5% on-year, outpacing the overall on-demand audio streaming growth of 44.7% between the two final quarters. Ad-supported on-demand audio streams did also increase year-over-year, but just 18.2%.
Hip-hop and rap were the leading genre by consumption for streaming by a noteworthy margin. Those styles represented 25.4% of total on-demand streams, 26.9% of on-demand audio streams, and 22.8% of video on-demand streams. Drake received all of BuzzAngle Music's top three accolades for the second consecutive year. He was recognized as artist of the year, album of the year, and song of the year. Scorpion was the top album by streams, while God's Plan was the top song by sales, audio streams, and video streams.
The BuzzAngle report also offered some insight onto how massive hit songs are impacting the overall results for streaming platforms. During 2018, nine songs were streamed more than 500 million times and 417 songs were streamed more than 100 million times. The top 1,000 songs were responsible for 121.8 billion streams over the course of the year.
As with so many industry reports, BuzzAngle found declines for most physical formats and digital downloads. Digital album sales decreased 21.8% from 2017 to 2018, while physical album sales dipped 15.3%. Song sales declined 28.8% on-year. In fact, no tracks in the U.S. surpassed 1 million song downloads during 2018.
BuzzAngle Music calculates an album project unit as 10 song sales, 1,500 on-demand audio streams, or 1,500 on-demand video streams. A song project unit is 150 on-demand audio streams.